August 17, 2011
I love books too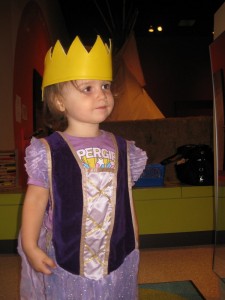 This evening was very upsetting for Harriet, because her balloon monkey with which she was besotted suddenly popped. We explained that this was part of the balloon's natural life cycle, then consoled her with a gingerbread man whose arm fell off, and then I ate the arm, and then Harriet went insane, screaming, "I need new arm right now!" We explained that the gingerbread man was a cookie, and that she could eat the rest of him. She was having none of it, and finally her father constructed a prosthetic limb out of a chocolate chip cookie piece. The man's a genius. Then Harriet forgot about the gingerbread man altogether, went to bed, and now the gingerbread is no more. He was delicious, but his kind will never darken our door again.
This evening Harriet also sat at the table like a superstar, however, and ate her pesto pasta with gusto. "I don't like beets," she told us though, and then I banished all talk of "I don't like—" from our dinner table henceforth, because there is no conversation more boring. The beets were delicious. For afters, we had Barbara Pym with fresh strawberries from the market.
Harriet has become very good at issuing orders. "Stop talking, Mommy!" is a frequent shout, and she clearly doesn't know me very well, because I've never responded well to that kind of guidance. "Stop dancing, Mommy!" was a bit devastating to hear one day last week when I was rocking out to The Kooks, and I fast forwarded to her teenage years and when she finds me totally mortifying. "Clean my diaper!" is another, and my thinking is that if you're old enough to make a demand like that, you're probably old enough to use the potty. But alas…
Harriet is currently in love with Curious George, and his curious pipe-smoking ways. If you ask her what her favourite book is, she'll tell you Knuffle Bunny. We love Mo Willems' new book Hooray for Amanda and her Alligator. She loves Corduroy too, and Alfie and Annie Rose, and anything else by Shirley Hughes (whose other characters we refer to as "Alfie's Friends"). She has lately refused to read Sleeping Dragons All Around: "too scary," she says. She can't get enough of Murmel Murmel Murmel. And Mabel Murple rains supreme.
If I say, "I love books," Harriet says, "I love books too." Which was really exciting for a little while, until I learned (with "spinach", "tomatoes" and "yak poo") that Harriet will use that sentence construction to claim a love of anything. But she really does seem to love books, and outside (pronounced "asshat"), and painting, and popsicles, and sandals, and sandcastles, all her friends, dogs and cats, going on the subway, and eating ice cream. She has a hilarious English accent. Her favourite ice cream flavour is cherry, which is weird and we don't know how she ever discovered that there was such a thing. She has an imaginary friend called Mimi who loves at the museum, and apparently her hair is blue. When we were there last week, Harriet seemed genuinely distraught not to find her there, but we'll look again. There are dinosaurs in the meantime, and garbage trucks, and fire trucks, and the whole world is amazing.