August 16, 2011
Never Knowing by Chevy Stevens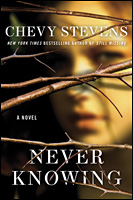 I'm really not a snob, I've just got a problem with bad books, and this is why I struggle so much when I try to read popular fiction. Which is why I'm always so elated when I discover a book that proves that bad books and popular fiction are not synonymous, that finally I too get to be swept away by a thriller that holds me right to the end. And in this case, the book was Never Knowing by Chevy Stevens, a book I love with the same part of me that loves loves Laura Lippman (and also with the part that really loved Scream.)
Sara Gallagher has always believed that discovering the identity of her birth mother would bring her some closure, to fill in the missing pieces of the background of a life that has turned out pretty well. She runs a successful business, is well-loved by her young daughter, is engaged to be married to a man who she loves. But Julia, her birth mother, is cold and hostile when she finally meets her, and Sara senses there is more to the story than what she's been told. With a little prying, Sara discovers that her birth mother is the only surviving victim of the notorious Campsite Killer, and that the Campsite Killer is her father.
When Sara and Julia's identities are leaked onto an online crime forum, suddenly the whole world discovers the story, including Sara's own parents who are angry that she never told them she was searching for the truth about her past. Even worse, however, the Campsite Killer himself, still on the loose and killing after all these years, finds out that he has a daughter, and is determined to make a connection. Sara is forced into a complicated situation as she must satisfy her own curiosity about the father she never knew, reconcile that she's the product of a monster, assist the police in their investigation by forging a relationship with the killer, and also not let her self or her family come into danger. Sara is being used by the police and by the killer for their own ends, and the situation strains Sara's own relationship with her daughter and fiance as her wedding date approaches.
With Stevens' previous novel Still Missing, Never Knowing is structured in first person narrative, with Sara talking with her psychiatrist. The structure works, carefully controlling how the tension builds throughout the novel, and the narration never suffers from unnecessary exposition– it all unfolds quite naturally. Sara's voice is strong and it makes her character clear. Stevens complicates the plot with domestic drama– Sarah has never seen eye-to-eye with her domineering father, she can't stand one of her sisters, her fiance is jealous of the police officer who's working closely with Sara on the case. Her daughter is acting out in response to all the attention Sara is paying elsewhere, and her daughter's behaviour, as well as Sara's own impulsiveness have her considering the possibilities of her genetic inheritance.
What I loved about this book is that Sara's were responses were that of a real person, rather than a plot device. She keeps those around her informed of what's going on, we don't have to tell her, "Don't go down into the basement!" because she knows better. She's a smart woman whose wits are being tested, but she's got her self-preservation instincts in tact, and her first priority is protecting her daughter. Which becomes more and more difficult as the Campsite Killer gets closer, and though it's clearly never going to end well, Sara's adamant that she's going to end it nevertheless.