July 22, 2011
The Vicious Circle reads Hotel World by Ali Smith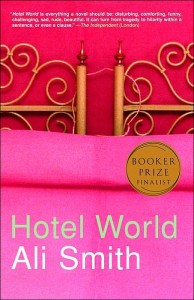 It did not bode well f0r a fantastic meeting of The Vicious Circle. It had been hottest July 21 ever, and everyone was either away or unwilling to take on Ali Smith's Hotel World, so there would be just three of us. But what a three we were! Each of doing our part to eat much cheese and cake and make up for the others' absences, and there was so much conversation, bookish love and Ali Smith illumination.
I picked this book. I found it in a box on a curb ages ago, and it's been kicking around ever since. Book club finally gave me a the push to actually read it, and as I did so, there were parts I loved. I was more forgiving with this flawed book than I have been with the other flawed first novels our book club has read recently, first because I've read Ali Smith's second novel The Accidental and it's wonderful, so it's easy to forgive any novel that grew into that. And also because she's Ali Smith– her talent abounds. Even if I hadn't read The Accidental, it would be clear to me that this is an author whose talent is going to take her somewhere great.
But Hotel World? Not so great. One of us had barely been able to stomach it, and then the entire chapter without punctuation just proved to much. And the other of us began to read it only to realize that she'd already read it about five years ago but had no recollection, which is never a good sign. It's an experimental novel, and it's not quite pulled off– its fragments are too fragmented, and in places they come together in artificial ways, and there were so many things we just didn't get. The book would probably demand a second reading, but none of us had come away with the inclination to go there.
But then we started talking about what we liked about the book, and the talk kept coming. The punctuation-free section that had so frustrated one of us had delighted another– finally, plot! It gave us so many answers to the questions the other sections had posed. We liked the humour, the absurdity. We thought about how Smith is like Nicola Barker, and also Kate Atkinson, though the latter is much more mainstream. Also, Hilary Mantel. We noted the morbid streak, the play with language, that language is not merely employed but is the story, that these writers know their tools. We wondered why all the British writers writing like this happened to be female. We wondered why nobody writes like this in Canada. It occurs to us that in Canada, no big publisher would take a writer like Ali Smith on. If there is a Canadian Ali Smith, she's being publishing by a small press we've never heard of. We want to send out an alert to the big publishers in Canada– Ali Smith is what happens when you push a weird and wonderful writer who challenges her readers. People actually buy her! She becomes mainstream because her work is out there, and is therefore commercially successful. We realize that someone will answer that British publishing has such a wider readership that they can afford to push weightier writers. We will answer them that we don't care. Ahem.
One of us brings out Ali Smith's story collection The Whole Story and Other Stories, which two of us swear is her best, and we see that it is dedicated to Kate Atkinson, so the connection is definitely there. We think a bit about Muriel Spark, and remember that Smith wrote the forward to The Comforters, which we read last year. We spend a lot of time talking about the ambiguous parts of the novel that each of us had interpreted differently. None of us are entirely sure what to make of the final section. We all like this book much better than any of us did going in, and we're so happy we read it, that we made the trek in this heat. We just decide not to discuss how much cake has been eaten between the three of us, but we're not sorry about the quantity at all.