July 15, 2011
On books, sharing, communal toys, and the playground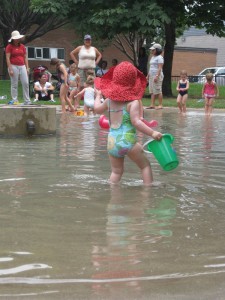 I am really not very good at sharing. Giving, I'm all over that, but sharing makes me wary– too often, the things I've shared have come back to me quite battered, and usually these things are books. Which is why now if you ask if I will lend you a book, I will tell you no. I will feel terrible about this, embarrassed at being socially awkward and ungenerous, but not so embarrassed that I could be persuaded to change my mind. I like to have my things where they belong.
Which is why I sort of understand when my daughter doesn't do so well at sharing either. There were two watering cans in the pool yesterday, and she insisted on playing with the red tin one that Margaret was using. And I could understand why because the green plastic can is obviously inferior. The green plastic can is the one she will "share", and the red tin can will stay with its rightful owner. (Thankfully, dear Margaret [who has been Harriet's best friend since she was two days old] was civilized enough to go along with this plan). I'd like it if Harriet were a more easy-going person, but I can usually understand the reasons why she isn't. She's fierce and feral, but she makes a lot of sense to me. Sometimes "sharing" seems a lot like having Goldilocks come to visit, and while I want Harriet to learn to be a good host and a good friend, where's the fun in that?
Stuart and I got called out by one of the terrifying mothers at the playground on Sunday. We'd brought a bucket for Harriet to play with in the pool because Harriet insists on having a bucket at all times, and one of the communal buckets might not have been available. (Moreover, the communal toys at the playground are crap because nobody bothers to take care of them, but that's another story…) Some kid came up and took the bucket from beside where we were sitting. "It's Harriet's bucket," we told the kid, who gave it back, no problem.
But his mother behind us said to our friend, "The boys never understand when they go someplace and everybody has their own toys. They just go up and take them, and the other kids get upset, but parks are supposed to be communal. I mean, that's the whole point." (Man, would I ever make a really bad socialist. For someone who doesn't own any property, I've sure got a lot of views about private ones.) So we considered ourselves chastised, and I was feeling badly about this, wondering if we were approaching the whole thing wrong. And then the annoying women's two children (who were named Cashton and Thorston) started assaulting their friend with shovels, and the annoying woman yelled at the boy, "Walk away, Siegfried! Walk away!" while poor Siegfried got battered. So think that she might not have all the secrets to raising children after all.
It's a tough call, and I'm still not sure how I feel. I know that I don't like sharing my books though, which is something. We share snacks, we even share ice cream cones, we'd share a skipping rope if Harriet were capable of jumping. We take turns on the swings, we don't rip toys out of kids' hands, if there is a communal toy we want to play with in the playground, Harriet waits her turn. If we were at Margaret's house and Harriet wanted Margaret's prized watering can (as you do), I'd have to tell Harriet, "Tough luck." To me, this is sharing.
We brought our bucket to the playground again on Monday, and a little girl picked it up, hurled it to the ground, and the handle broke off. Is this sharing? Because if it is, sharing sucks. But I don't want to be a person who thinks that sharing sucks. And I actually appreciate all the communal toys at the park, but everything doesn't belong to everyone, and I don't think that's a bad thing…
So no conclusions. But this is the kind of philosophical issue that I'm grappling with these days. I'm still not lending you my book though.