July 14, 2011
Monoceros by Suzette Mayr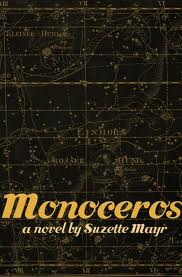 Suzette Mayr's Monoceros takes place in an alternate reality, albeit a reality that very much resembles our own–high school is a nightmare, students are bullied to death for being gay, men and women can lose their jobs for being gay, teen girls are vicious, adults are just as lost as the kids are, and the only difference between the two is that the former have given up searching for meaning. Where the world of Monoceros becomes a fantasy, however, is that the bullied student's death actually happens for a reason, that his death becomes a catalyst for those he leaves behind to change to their lives. Also, there are unicorns,  fairy godmother drag queen called Crepe Suzette, and a belching prophet called Jesus.
Crepe Suzette wears the costume of Colonel Shakira, heroine of a campy sci-fi show that is important to nearly every character in Mayr's novel– it's the favourite show of Max, the closeted school principal; the dead boy had been a fan, and so had been his boyfriend; the unicorn-obsessed high school girl is attracted to its unicorn imagery, and Crepe Suzette is actually her uncle, her Uncle Suzie. In Uncle Suzie's day job, she's a waiter, and one day, unknowingly, she serves the dead boy's mother. She also performed her drag show for the dead boy's English teacher, who was in the restaurant with her ex-husband, her marriage having ended so recently that they still had tickets for events together. It's Suzette's car that Max plows into while driving distracted because his husband has just left him, his husband the school guidance counsellor who (like everybody else after the boy kills himself) is stunned by his own self-absorption and lack of regard that left him so incapable of helping the dead boy.
The multiple points of view are dizzying, but well-realized, and serve to propel the plot along. Mayr has her characters linked in all kinds of surprising ways, and they're all  carrying their own burdens, which only become heavier with the death of a boy none of them really knew. Each one is wholly invested with life, even the dead boy, who, we discover, didn't take his taunting passively, and had some marvelous come-backs to his tormentor that hit her right where it hurt. Though she doesn't hurt much, this girl, Petra Mai, who bullies the dead boy when he isn't dead yet because the boy she loves loves him instead. And with Petra, Mayr has created a character who is hilariously vile, the smart girl, the girl who plays the cello, the girl no one would ever expect had caused so much harm. She barely notices it herself, so intent upon her own story, celebrating her four month anniversary with her boyfriend and daring to think ahead to how they'll celebrate the fifth. She's the only one in the novel who never really changes.
As the novel progresses, focus narrows upon Max and Walter, the principal and the guidance counselor who've been a secret couple for seventeen years. Mayr's depiction of Max's ambivalence about his relationship and sexuality makes for fascinating narrative tension, which is taken in unexpected directions when Walter abruptly refuses to keep going along with their charade. We also witness the English teacher rebuilding herself from the shattered pieces of her marriage, and the dead boy's mother who is just shattered, but still manages to build something out of the pieces of her son (who she once begged to promise her that he wasn't really gay, and urged upon him that it was just a phase. This is the kind of thing she has to remember).
The subject matter would suggest otherwise, but Monoceros was a joy to read. The writing was fresh, strange and edgy, the humour sharp, and the teenage characters in particular were startlingly real. The dead boy was its point of origin, but the book becomes much more about life than death, which serves to finally set the others in the direction of actually living their own lives.