May 29, 2011
Uncustomary Blogs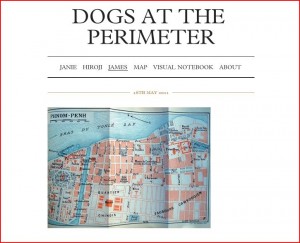 "It is now customary for authors to have character blogs…" someone tweeted from the Writers Union of Canada AGM this weekend, which made me think a bit. And then some more after I'd attended the AGM's "speednetworking" event and spoke to a number of writers with questions about blogs and how to use them. "My publisher told me I should have a blog," said one of them, but she had no idea what to do with that advice. What I thought about all of this finally is that the most successful author blogs have nothing customary about them.
Madeleine Thien's blog was noted as the "customary" author blog, but I haven't seen many other blogs like it. Set up to complement her latest book Dogs at the Perimeter, the blog uses her novel as a platform to launch further and deeper into Cambodian history, to expand upon the research she used for her book, and to round out her characters with a bit of metafictional fun. That her novel so nicely intersects history and story offers great potential for both of these to work together on the blog, to further engage readers who want to know more about the story's background, to use visual materials that wouldn't have worked in the novel, and to create a blog that is a work of art onto itself.
Sean Dixon has created blogs for both his novels that work in a similar way. I remember finding The Lacuna Cabal blog once I'd finished reading his novel The Girls Who Saw Everything and being so thrilled that these characters I'd been following could live beyond the page (and it's not that the page wasn't enough. It's that I liked it so much, I wanted more). Unlike with Thien, Dixon is straightforwardly the author of his blog, but his work similarly blurs lines between fact and fiction and the blog is a great place for such blurring to continue. Dixon's characters are so real to him that he's happy to tell use more about them, and to provide more background information on how his story grew into an actual book. He's having similar fun with the blog for his new novel The Many Revenges of Kip Flynn, using photographs of locales depicted in his book, and making connections between his book and the world through links to various things.
What makes these blogs work (and Ami McKay also did a fine job of this with The Birth House, also Amy Lavender Harris with Imagining Toronto), however, is that clearly their authors are enjoying what they're doing, they're invested in the project, the blog for its own sake instead of as a marketing tool. The blogs work because the authors find links they want to share with us, the blogs become compendiums of fascinating stuff, and their eclectic-ness is a reflection of the authors' personalities. That personality is what makes readers keep returning, a blog as unique as the individual who wrote it. The chief attraction of blogs, of course, are the glimpses they offer into the people behind them.
But not all authors need to create blogs of such scale. Perhaps their books don't lend themselves, or (importantly) the author is a not a big appreciator of blogs and has no idea (or interest) in how they work. It would sort of be like someone who's never read a book trying to write one– inevitable disaster. Successful bloggers, I think, never have to try that hard– if it doesn't come naturally, if it doesn't seem fun, then it's not worth it.
Blogs are useful for keeping websites current, however, and having a blog but calling it "News" is an easy way to get that practical benefit but not have to pour one's heart into it. I also like the idea of a blog as a limited project, as with Anne Perdue's road trip blog, so that the challenge of maintenance is no longer an issue. Establishing at the beginning that a blog will not be updated too often is also a simple way to keep it sustainable.
The nice thing about a blog is that it can be anything, and a writer can adapt the form to suit her needs and interests (and can further adapt as needs and interests change). She can decide how much of her personal life she wants to share, how much focus she wants stuck to a specific book, if she will take the voice of a mentor, an expert, or a friend, if she will focus on herself or her work, or other stuff in the world. She can create a blog that is not only of interest to her readers, but is also useful to her as a writer and a reader. She can–like Madeleine Thien did–choose not to make what is a customary blog, and it's probably a wise choice. Because who wants to read the blog that is like everybody else's? (Which, incidentally, is the blog that eventually fizzles out anyway.)