May 26, 2011
I think you'll be two now and forever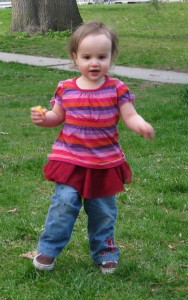 I've written posts before about Harriet being older than she's ever been, like back when she was seven weeks old, and I was amazed at how far we've come. Or when she was three months old, and when she turned one, or six months ago when she was a year and a half–these signposts that have us take stock and realize that we've been moving forward all along, even when we spend mornings reading stories on the couch and it doesn't much feel like it.
But this is different. My friends, never before has Harriet been two-years-old, one hundred and four weeks, an upstanding (most of the time), fast-running, fierce shrieking, word-speaking, unabashed hugger and devourer of tiny muffins, counter of cars, page-turning, tutu-wearing feral creature who reads the newspaper while she eats her lunch, looking for advertisements with pictures of cars. Cars with wheels.
The age of two is a bit like colic. It's a dreaded thing that everybody warns you about, and some people say it doesn't exist, but others spent nine months suicidal because of it. I thought that since Harriet has been annoying since birth, we might miss out on the terrible. Her tantrums started when she was about a year old, so I was well-versed in the child lying face-down, kicking and pounding the floor and crying until she pukes. I thought I knew what people were talking about when they were talking about two years old, but like everything to do with each new stage of parenthood, I had no idea.
Two is terrible in a brand new way. It's the kid who is trekked all the way to swimming lessons then refuses to get into the pool, the kid who won't say hello to her grandmother on the phone, who won't eat unless she's sitting on her mother's lap, who wants her father to get out of the way and so stands with her hands on her hips and says, "Bye, Daddy. Bye, Daddy." It's the kid who knows she can climb up on a kitchen chair to turn the stereo on, but also knows she isn't supposed to, and is in thrall to the tension between these ideas. She's fascinated by her ability to provoke a reaction, and by her dawning awareness of being a free agent in the world. She also has the self-preservation instinct of a lemming.
But two is also happiness beyond the wildest dreams. It's the kid who's fascinated by prepositions, and lying in bed between her parents on Saturday morning looked at both of us and said, "Harriet in family." It's the kid who wants to go outside always, and never wants to come in. Who loves to talk about her friends, and never sees any of them (or does anything) without having to be pulled away shouting, "More!" She loves chocolate, ice cream, and this weekend decided that cupcakes were called "Happy Birthday Muffins". She has just learned the word, "Nobody" and loves to play her guitar, and makes up songs in a combination of English and Harriet-ese. She loves car-rides, puppies, dancing, teapots, puddles, stickers, clocks, digging in dirt, watering cans, and dustpans. Her favourite author is Byron Barton, among others. If it's close enough to bedtime, she will laugh hysterically about anything. She loves to help with everything we do, and sometimes she even manages to.
Harriet is two, which is the oldest she has ever been, but also not much older than seven weeks old, relatively speaking, (and still "nearly new" according to A.A. Milne). And it's true what they say, though it wasn't for a long time–I can't imagine my life without her. I don't know how I got along before, but now I'm so glad I don't have to. She is everything I ever wanted her to be, and me because of her.
We love her, we love her, we do.