April 4, 2011
Sarah Selecky is coming to visit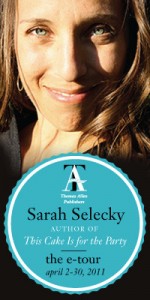 Hey! Sarah Selecky is coming to visit on April 16th as part of her This Cake is for the Party e-tour. Get involved in the discussion, and be entered for a chance to win an e-reader, or get involved anyway even if you'd rather not win an e-reader. Her other stops are:
Open Book Toronto – April 5
Book Fridge– April 8
Dana Deathe – April 9
Grace O'Connell – April 23 &
That Shakespearean Rag – April 30.