February 24, 2011
Report from the (wrong side of the) road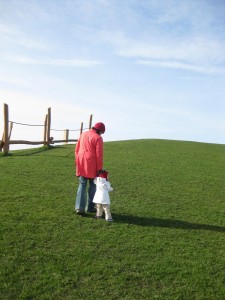 The most amazing thing that ever happened to me happened on our trip to the UK in 2007 when I predicted that our car rental would be upgraded to a Saab convertible, and it was, and so we drove with the top down from North Yorkshire over the dales, across the Pennines until it started to rain– it was perfect. Similar fortune wouldn't have worked as well this time, as the carseat would have been a tight squeeze in the Saab, and there would be no room for our enormous suitcases. Besides, the Saab was far too wide for maneuvering down English roads, I kept scraping the alloy wheels against curbs, and got charged 200 pounds (which brought our total up to the cost of a Saab in the first place, and so it goes).
No, this time I predicted that we'd get upgraded to first class on the flight over, and I'm not sure if I'm psychic, or merely good at conjuring realities, but it worked again, and our flight was a dream. We were not so first class that we got to sleep in pods and actual silverware, but we got comfortable seats and foot-rests, and a kit with earplugs and an eye-mask. We actually slept! Arriving in London on Sunday morning, feeling much better than we'd ever imagined we would.
Since then, we have seen old friends, Harriet has played with scores of children, we have driven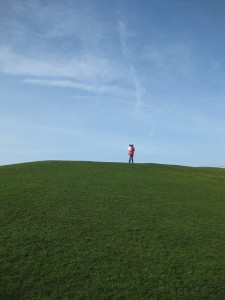 from Berkwhire to Lancashire, I have mastered round-abouts, I avoided hitting a pheasant on a very scary journey along a two lane road with brick walls built up on either side, many twists and turns, a 100km speed limit, and some points at which the two lanes were narrowed to one. I am reading The Burley Cross Postbox Theft by Nicola Barker, which is the best possible book I could be reading at this time. Tomorrow we are driving to Scotland to see friends from our Japan days who we haven't seen since our wedding five and a half years ago. Today we walked along the sea front, and Harriet watched the tide come in, and the sun shone, and it was lovely. When the sun shines here, people like to tell you that we'll pay for it later. We have been eating copious amounts of cake and tea and scones. On Monday, Stuart and I are taking a trip for afternoon tea in at Bettys in Ilkley, because Ilkley is the constabulary serving Burley Cross. We're looking forward to a day in London near the end of next week, and another day exploring Windsor.
And most of all we're looking forward to the fact that we've been away for nearly a week, and our vacation isn't even half over.