February 16, 2011
Light at the end of the tunnel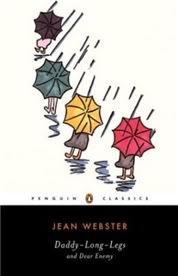 On Saturday, we are going to England, baggage handler strike notwithstanding, and don't worry, I have a new spring coat (the Christine trench, in geranium) because the weather is calling for rain. We are going for two weeks! I have never gone on a two week vacation in adulthood– this is a monumental occasion. I am exited about numerous things, and terrified about others (round-abouts!). But mostly at the moment, I am excited about books. I had a bunch of books to read for various reasons in the last two weeks, and then all my Toronto Library holds came in at once, so that reading is about all I've been doing this last while. But as soon as I'm finished with my final library book, I am going to read magazines until our departure, because, of course, I have to start every journey with a fresh book. It's a superstition of mine.
I am going to take Jean Webster's Daddy Long Legs with me to read, and on a six hour flight with a toddler, my goal is to read at least five pages. Once we're settled and Harriet is in the care of her grandparents, however, there will be reading time aplenty (fit in around trips out for cream teas). I am also going to read my final Canada Reads Independently book, Lynn Coady's Play the Monster Blind, and I am bringing an ARC of Timothy Taylor's new book The Blue Light Project.
Whilst in England, I plan on buying Burley Cross Postbox Theft by Nicola Barker, a novel by Rachel Cusk (but which. Any suggestions? I've only read Arlington Park and A Life's Work), and a very odd book called Felicity and Barbara Pym by Harrison Solow, which isn't actually British, but oh well. I will probably buy many other books too, especially since we are going to visit the London Review Bookshop (which is also a cake shop).
Once I'm home again, there's a packed shelf of books I'm looking forward to bringing in the spring with, books that are too big for travel: Allison Pearson's I Think I Love You, the new PEN Anthology Finding the Words, and Zsuzsi Gartner's story collection Better Living Through Plastic Explosives. Among others, oh yes. Many, many others.