February 13, 2011
Doubleness and Happiness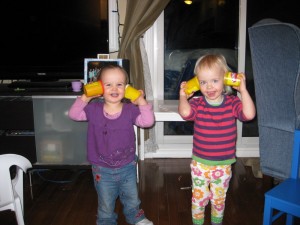 Oh, the things I could tell you about my daughter. Like how she strums her guitar and sings the song she wrote, which is the word "Bunny" over and over; how she learned to say "CN Tower" last week; how when I say, "Slow snow falling", she says "Deep", and when I say, "Cars dogs babies", she says, "Sleep". How she says "sleep" like "seep" and does a fair amount of it herself. How she's totally into colouring these days, and she has learned to say her name, except she says, "Ohra" instead of Harriet. Her favourite colour is purple (thanks to Mable Murple), she has to have a sticker on her hand at all times (and best if it's purple), she loves The Wheels on the Bus (in particular "Swish swish swish") and Skinnamarink. She loves any book by Marisabina Russo, and Alfie and his sister Annie Rose. How much fun she has with her best friend Margaret, especially when they're being silly together (and seriously, is it ever fun to wear playdough on your ears.
We love love love her (except when she is having a tantrum at the ROM, and arching her back as I try to put her into her stroller so that the stroller rolls across the atrium at top-speed and everybody is staring at me as she's screaming, and then we go through the same routine later that afternoon in front of a packed waiting room at the doctor's). Just as I loved loved loved Sarah Hampson's wonderful piece in The Globe last week about parenthood and happiness. Which I read with Carol Shields on my mind, and it underlined the line I'd already actually underlined from the novel: "doubleness clarifie[s] the world." Yes, that's precisely what it is.
Having a child is very much like everything about being a person who is alive: it's wonderful and it's terrible. It's also very much like being alive in the sense that I'd rather do it than not do it, even though sometimes it isn't very fun.
I loved this, from Hampson: "I realized that while it was hard not to compare my efforts to those of other mothers, I should see my approach to parenthood as an investment in penny stocks no could predict the outcome of."
These days, as things have come together in a way that makes sense to me, I spend much less time thinking about "parenting" than I did a year ago. I was obsessed with books then, trying to discover some kind of methodology, but lately we've been doing just fine at "making it up as we go along". Though I have put a book called Toddler Taming on reserve at the library. I have a feeling now is just the calm before the storm.