February 8, 2011
Dear Author, I don't want you to visit my book club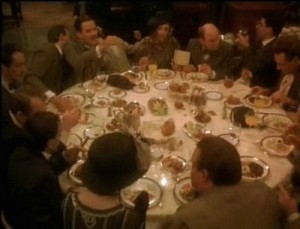 I don't want an author to visit my book club. Perhaps because my book club is more vicious than most, but I still can't imagine a book club in which conversation could flow easily in an author's presence. Because how do you talk about the parts of the books that suck? How can the group vehemently disagree on the book's quality if naysayers are too polite to speak up? How can you speculate as to the author's intentions, and where they went wrong? How can the book be viciously attacked, therefore provoking the book's most passionate defenders to step up? And what if the author ate all the guacamole?
I understand why authors do attend book clubs, and why book clubs want them to do so– the arrangement is mutually beneficial. Authors get book sales and club members get filler, which it seems book clubs are ever after anyway. Though I do wish that book club members would have a little more confidence in their own skills as readers so that meetings did not have to contain merely filler. That they could think up their own discussion questions, for example (and in my club, these are mainly along the lines of, "All right, what's up with this bit I couldn't understand?") Let their own conversation sustain the meeting, and if author visits are desired, have them at a supplementary meeting– certainly these visits would only enhance subsequent discussion. But the discussion will suffer if the author is sitting there for it.
I raise this matter in regard to Canada Reads, and Charlotte Ashley noted the same thing in her summation yesterday. That for the first time, authors have been sitting in on the entire Canada Reads process, and I don't think it's done the program any good. I liked the initial plan of having readers champion their favourite books for an "essential books of the decade" list, but things went askew when actual authors got in on the action. And authors got so in on the action, that their personalities became inseparable from the books in question. Relationships through social media developed so that it was impossible for many to read these books without a conflict of interest. The books themselves ceased to be the point at all.
As I wrote in October, "If your book really was one of the essential books of the past decade, couldn't you rely on your passionate readers to promote it? And if you don't have those passionate readers, then, um, maybe your book wasn't one of the essential books of the past decade?" As Charlotte Ashley wrote yesterday, "if there was an elephant in the room [in yesterday's "debates", surely it was the CBC's repeated insistence that this competition was about finding the "most essential" book of the last decade whilst gesturing at a stack of books nobody has ever heard of."
Unless is the one book here that has any chance of essential-ness. I haven't read The Best Laid Plans, but Charlotte didn't have much to say about it, and she's a pretty smart reader. I read Essex County Book 1, and it was interesting– I'd suggest it had more ambiguity than any of the other Canada Reads books, save for Unless, but still, not quite an essential pick. The Bone Cage was a good first novel, but one with many problems. Like The Birth House, it's a book whose problems I wouldn't take great care to deliberate on, except that now someone is going around claiming it's the essential Canadian book of the decade and it absolutely isn't. The whole thing is kind of ridiculous.
What's more ridiculous though is that no one having this conversation. I've refrained from saying anything until now, because I don't like to talk shit about books, but we're all being far too polite now, and I fear that authors attending our book club is most of the reason why. It's why book bloggers are celebrating these books without question, not a word of criticism, though there is plenty to criticize, but how can we  criticize when the author is our friend on Facebook, and our favourite Twitter pal?
I believe passionately in the role of book bloggers in contributing to literary conversation, that (to paraphrase V. Woolf) ""The standards we raise and the judgements we pass steal into the air and become part of the atmosphere which writers breathe as they work." Of course, I've always appreciated connecting with authors through blogging, the writer googling themselves at midnight on a Friday night and sending an email of thanks for my review– I love that. But when the author shows up on my doorstep wrapped up on a ribbon, bearing their book on a silver platter along with a cupcake, well then, it's not about the book anymore.
I fear that the infusion of authorial presence in the online world is compromising what bloggers have to say, and readers and writers have a lot to lose by that.