January 13, 2011
Wild Libraries I have known: John W. Graham (Trinity College)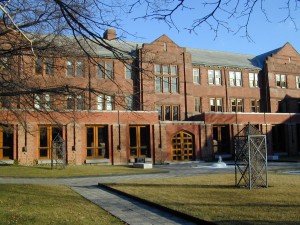 The first day of my final year of undergraduate studies was Tuesday, September 11, 2001, and I remember sitting out on my rooftop patio the evening before, gazing at the city skyline, imagining that I really was smoking those cigarettes, and wishing something interesting would happen. The morning after notwithstanding, even, my wish was granted by the eight months that followed. I lived in a wonderful apartment with two beloved friends, and we had fun parties, elaborate suppers, hilarious adventures and misadventures, and sustained all night study sessions by runs to the 7-11 for Jolt Cola. We stayed up other nights editing school papers, writing newspaper back page columns, essays on Dryden's All for Love, indulging in melodrama, kissing boys strange and otherwise, strumming guitars, and talking, talking, talking.
It was a wonderful year in which everything I touched turned to gold, and the sun was shining all the time, even when it wasn't. And even when it wasn't was sometimes because of my Cold War History seminar, which challenged me like none of my university courses ever had (and the way all of them should have). I loved the course, the discussion was great, the material was fascinating. Our professor was Margaret MacMillan, the year before she published Paris 1919 and won the Samuel Johnson Prize. She was formidable, brilliant, and her standards were high, but I was incapable of meeting them. That I managed to do so eventually made me prouder than almost anything else I'd done.
Our course readings were on reserve at the John W. Graham Library at UofT's Trinity College, to be read in the library only. Now, it goes against everything I believe in to have any admiration for Trinity College (I went to the much preferable Victoria), but their new library had just opened that year, and it was lovely. Stately chairs in front of roaring fires, everything a beautiful dark wood, perfect lighting, brand new carrels where I'd take my readings too. In that library, I'd meet my other classmates, and we were always waiting for one another to be finished, and it was always late at night. I remember reading, reading about Kruschev's Secret Speech, the Hungarian Revolution, Yalta, fellow-travellers, glasnost, the Prague Spring. I remember working harder than I've ever worked in my life, the discussions that we had and the work that I produced making me feel like something of an actual scholar for the first time (and the last). I remember leaving the library as they were closing up, jumping on my bike and riding off to somewhere in crisp, cold night air, and I remember how the stars looked, even though I might just be imagining them now. I remember an awareness that I was living through an extraordinary era in my own life, that things would never be so clear again, or so easy. Life then was delivered to us on a plate, but we knew it was ending come the springtime. It was impossible to imagine what would happen after that.
What I remember most is the smell of the John W. Graham Library, more palpably than I remember anything else about it. A new building redolence, of fresh paint and new wood that only looked ancient. It smelled like a hot stack of photocopies and not remotely like a book. I came to associate that smell with everything about that year, when were standing on the threshold of the rest of our lives, and if I could smell it now, I think I'd cry. I really would, because of how lovely it was and how young we all were, so ridiculously and unknowingly earnest.
But new smell only lasts so long. When I returned to Toronto in 2005, I went back to the library so see if I could find it again, and was disappointed to find it smelled like anywhere. And of course, I was standing in the very same place, but it wasn't the same at all.