December 14, 2010
My Favourite Books of 2010
1) The Lacuna by Barbara Kingsolver: If ever an author belonged on the cover of Time this year, it was Barbara Kingsolver for her brilliant novel The Lacuna, which won the 2010 Orange Prize. Admittedly, it took 150 pages for me to get into this book, but it all made sense once I'd flown through the next 400 pages, and then I was devastated that the book was done and I had no more pages to read. This is a story of a boy growing up in Mexico, working in the household of Frida Keho and Diego Rivera, witnessing Trotsky's murder, settling down in small town America, and becoming embroiled by McCarthyism. A snapshot of the twentieth century and a depiction of extraordinary lives, but also with much bearing on ordinary people and the way we live today. The Lacuna is the strongest work yet from this learned and imaginative writer who engages with the world in such a fascinating way. Read my review.
2) Lemon by Cordelia Strube. Here is the new feminist protagonist Canadian Literature has been waiting for– Strube's Lemon is the only whole thing in a shattered world, and though that world threatens to take her down with it, she fights back with ferocity. The book is bleak and terrifying, brutal and sad, but Lemon carries it and we become so invested in the hope of of her eventual triumph. Her young voice is so authentic, and her perspective informed by the library of books she has devoured, her allusions and their interpretations a fellow bibliophile's delight. Read my review.
3) Light Lifting by Alexander MacLeod. When I finished reading the story "Light Lifting", which is right about in the middle of this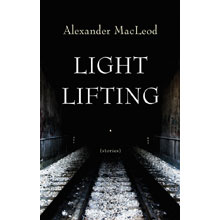 collection, I sent MacLeod (who I do not know) an emergency email to ask whether Robbie would be all right. He never replied, but I suppose he was busy, because that was the week he was longlisted for the Giller Prize, the shortlisting coming shortly after that, and though I really think he should have won, he sort of did, because this was the book he wrote after all. A giant, pulsing book, whose stories are all equally wonderful, though we all have our favourites. Mine include "Miracle Mile", for its glimpse into the world of athletes, "Wonder About the Parents" for a rhapsodic reflection on a couple's journey through marriage, parenthood and family life; or "Light Lifting" about brick laying, beer coolers in the workplace, class collisions, and brutal violence; or the one about learning to swim, or the one about the young boy delivering prescriptions, or or. Which is about all of them. You will love this book. Read my review.
4) The Slap by Christos Tsiolkas. All right, I hated this book. It was ugly, misogynistic, and full of filth. But it was also unputdownable, fabulously plotted, and posed some interesting questions (even if they weren't half as interesting than its author had supposed). Read this book if you're looking for a well written soap opera, and you aren't easily offended.
5) Black Water Rising by Attica Locke. This book was on the Orange Prize shortlist, where it did not quite belong (more John Grisham than John Updike, neither of whom belong on the Orange Prize shortlist either, but you know what I mean), but I believe it was there to prove that women's writing is as various as writing is. Locke's novel is well-plotted, her background in film obvious, the novel utterly enveloped by its period– it's the hot, hot summer of 1981 in Houston, Texas, and a young Black lawyer awaiting the birth of his first child becomes embroiled in a dockworkers' strike, the oil shortage, a mysterious woman saved from drowning, and a group of powerful people who will stop at nothing to get what they want. Read my review.
6) The Little Stranger by Sarah Waters. "So what is it about these stories, about outsiders coming up the drive toward the stately home that's past its prime?" I asked in my review of this book, and I suppose if you're not partial to such things, you might not get it. But I loved this book, its unravelling mystery, which never unravelled enough to convince me that this was a story I was finished with. It was also so scary that at one point while reading it, I was too frightened to get out of the bathtub.
7) A Short History of Women by Kate Walbert. This is the kind of novel it is heartening to realize that large presses are still publishing, challenging work that refuses lie down and be any one thing. Certainly a novel, but comprising stories that have been published elsewhere, this book tells the tale of four generations spanning 100 years, and the many ways in which feminism has changed everything and nothing, and how feminism itself evolves and doesn't. And regardless of the uncertainity, there is life here. Read my review.
8) So Much For All That by Lionel Shriver: Far, far from a perfect novel, but certainly worth reading anyway because it's entertaining, and also because Shriver insists on breaking the rules over and over again, and she pulls it off. Here is a novel "about the American health care system", and only Shriver can make something that sounds so dry so enveloping. Read my review.
9) The House Beneath by Susan Telfer. This book arrived in my life in the dead of last winter, because somebody thought I might like
it, and I was so pleased that they were right. In my review, I called this book "a Carol Shields novel compressed into 78 pages", and it lived up to the promise of its beautiful cover. Through her poetry, Telfer tells the story of her parents' marriage, and how the terrible past refuses to rest, particularly once she has children of her own. About how deep are our roots, even when we can't (or don't want to ) see them.
10) Mammoth by Larissa Andrusyshyn. Once again, a collection whose narrative swept me up. The narrator is inspired by discovery of mammoth DNA to imagine similarly bringing her own father back to life, and so the book is about grief and loss, love and family, but also about a cartoon mammoth who begins attending school, and how we are related to our bodies, and what remains of us once we're gone. A must for those of us who adore literature about science. Read my review.
11) Joy is So Exhausting by Susan Holbrook. I came to this book through the poem "Nursery" (a long, long poem as a mother perpetually breastfeeds her child): "Left: Now that you've started solids, applesauce in your eyebrows, I've become a course. Right: Spider on the plastic space mobile, walking the perimeter of the yellow crescent moon. Left: Dollop. Right: Now it's on Saturn's rights; if it fell off, it would drop right into my mouth. Left: I take 2%, you take hindmilk. Right: Fingers shrimp their way through the afghan holes. Left: I have hindmilk." The entire poem is joyful (and exhausting), and the rest of the collection is filled with a marvelous sense of play. Read my review.
12) Track and Trace by Zachariah Wells: A truly beautiful package, but the poems are the true attraction. About the strange intersections between humans and their environment, and how it's not even their environment after all. From my review: "Within each poem, the words fit together in surprising ways, with subtle rhyme, rhythm and alliteration. Within each word, the syllables, the vowels and consonants on and around my tongue. I read these poems aloud, lying on the carpet while my daughter threw blocks in the mornings, and the poems were a pleasure to put my mouth around, the starts and stops and open spaces."
13) Vs by Kerry Ryan. I only finished reading this book last night ("Turn off the light!" "Just two more poems…") so there is no review, but I loved this book about a bookish girl's foray into competitive boxing. Ryan writes about learning to stand her ground, about learing to punch and be punched, about how her body changes, about how the people in her life relate to her new pursuit, about how it changes the dynamics in her marriage in most surprising ways, and about what it is to discover a part of ourselves we've never encountered before. Her poems are bare and unflinching, and the collection is gorgeous.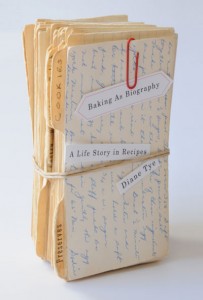 14) Baking as Biography by Diane Tye: The weekend I was reading it, no one wanted to talk to me because I was so frightfully boring, starting all sentences with, "Did you know…?" and "Would you believe…?" and finishing with a fascinating fact from Tye's book. Of which they were many, as Tye goes through her late mother's recipe box to reconstruct her life and her times. The book beginning with the most fascinating fact of all– that this woman who baked and cooked for her family for decades once remarked that she didn't even like baking. It took a few more decades for Tye to understand how interesting this was, and the resulting book explores the history of homemaking, feminism, family and eating, and the complex ways in which we understand all of these things. I loved this book. My review is here.
15) Imagining Toronto by Amy Lavender Harris. From the review I posted just last week: "Though its bibliography is 24 pages long, Imagining Toronto is no catalogue, or dry academic treatise, but instead it is a story, and the story is a city (and the city is a story, but we could go on like this forever). Harris has not merely written a book about Toronto, but she has written the city itself, from the depths of its ravines to the tip of the CN Tower, 1815 feet up in the sky. Her raw materials are the city's fictions, and the city is rendered by these poems and stories in glorious concreteness."