November 26, 2010
Wild Libraries I Have Known: The Nottingham Central Library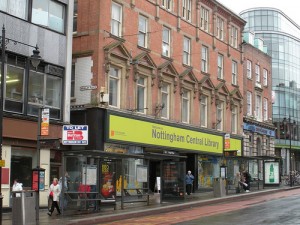 In 2002, overwrought and in disgrace, I ran away from home (for the second time in one summer) to live in England and work for a while on a working holiday-maker's visa. I ended up in Nottingham, which was neither here nor there, quite the Midlands indeed, because I lacked the wherewithal and financial resources to take on a city like London. I had $400 in my bank account, which dwindled to nothing before I got a temporary job stuffing envelopes at a driving school. I was living in a bottom bunk of a dormitory at a backpacker's hostel, where the bathroom tiles crawled under your feet, and everybody was having sex with everybody else, except that I wasn't and, for once in my life, this was purely a matter of choice.
So you can see that life was a bit unsettled, that there was no centre to cannot hold and things had already fallen apart. The point then was to put it all back together, and the reconstruction began with my library card. I can't remember the day I got my card, or how it came about, but I imagine that it had something to do with a mobile phone bill linking me a Nottingham address (however transient). And then suddenly, I had a Central anything, an axis for my tilting world, which was beginning to be righted again.
For our first date, which was on a Wednesday night nearly eight years ago, my husband and I met at the bus stop in the photo above, in front of the Nottingham Central Library. It was from the library that I signed out novel after novel because I had no money for books, and even after I had money for books,  I didn't stop my library habit. Sadly, the only novel I vividly remember signing out was Ash Wednesday by Ethan Hawke, because there was so much vivid about that time that it's all sort of a blur, but I remember that I was always reading. I remember rushing down to the City Centre on my lunch breaks to use the library internet for a fifteen minute block (and how could my internet habits have ever been that? When did it change, and why didn't I notice?). To check my email, send missives home, check out the Globe and Mail homepage to see what was going on back in Canada, to update my early-twenties dirty-laundry-airing blog. I remember using the library to do research for an article I was determined to write and to publish, except that I didn't know how to write or get published, and now I use that point as a gauge between here and now just to determine how far I've come.
It's trite but true– the Nottingham Central Library provided me with shelter when the rest of the world was anything but. It provided me access, connection, and a place to belong, and I'm not sure what might have happened to me without it.