November 15, 2010
Author Interviews @ Pickle Me This: Zoe Whittall on The Middle Ground
Zoe Whittall is author of novels Holding Still For As Long As Possible and Bottle Rocket Hearts, which was named a Globe & Mail Best Book of 2007. She won the Writers' Trust of Canada's Dayne Ogilvie Award in 2008, was shortlisted for the 2010 ReLit Award, and is currently adapting both novels for screen. Her poetry books include The Best Ten Minutes of Your Life, The Emily Valentine Poems and Precordial Thump. She edited the anthology Geeks, Misfits & Outlaws in 2003. She lives in Toronto, where she works as a journalist.
When the clocks went back two weekends ago, I used my extra hour to devour Zoe Whittall's latest novel. The Middle Ground is short, fast-paced and plot-driven, part of the Rapid Reads Series by Orca Book Publishers. I was particularly interested in the book as a tool for adults with low literacy, permitting them access to the bookish magic that so many of us are lucky to take for granted.
Zoe was kind enough to answer some of my questions about Rapid Reads, and writing a book like The Middle Ground.
I: Can you tell me about Rapid Reads? How did you come to be involved in writing for the series?
ZW: I learned about the Rapid Reads publishing program at Orca through my agent, Samantha Haywood at TLA. She knew they were looking for authors, and I had just finished writing HSFALAP and was taking a creative breather between big projects. I also knew I was about to start working on the script for the Bottle Rocket Hearts film. I was drawn to the idea of writing a short book that was straightforward and high on plot and suspense. I've never been that great at plot, so I figured this would be a really good exercise for me as a writer, and something that would help me when I started writing the script, because you always have to be mindful of action and conflict in every single scene. I read a whole bunch of mystery novels as research into how to craft suspense, and built on that. I'd spent years reading a lot of poetic prose, experimental narratives and literary novels, so switching gears this way was very helpful, I think, in the long run.
I: What direction were you given by the publisher?
ZW: I was given very specific direction by my publisher, and wrote several drafts of plot outlines before they approved it and we signed the contracts. Basically, the book had so be short, with simple vocabulary, employ no flashbacks, have no more than a handful of characters, and it had to move forward as fast as possible. It sounds easier than it was.
I: What challenges were surprising?
ZW: I only had a limited amount of pages in which to explore who Missy is and why she would decide to make so many unlikely or irrational choices. I read a fair amount about Stockholm syndrome and how different personalities might react to crisis or violence. I thought a lot about how she might feel about the three major aspects of her life – her job and financial stability, her love life, and her child and family – and if all three of those constants in her life were disrupted in one day, the same day that she is a victim of a crime, how would she deal?
I wrote the book while visiting the small town where my partner grew up, so I felt like the setting was easy to settle into it. I also spent my childhood on a farm, and identify with rural life, so that was comfortable. But Missy is about as different from me as you can imagine, so that was a challenge, but a great one. It's like playing dress-up in a way.
It was challenging to orchestrate the crime scene as the end – I spoke with some police and former police to know how the cops would enter the space, and if Missy would be considered a victim or accomplice, all of those technical details. I drew a lot of diagrams, about things like "if his back is turned, and she's by the garbage bins, and the people run towards the door, who would be able to see who, and how would they move fast in this short period of time? What could she say that would provoke him to shoot, where could she be shot so that she wouldn't be die.." those kinds of details, etc.
I: Did you have to know Missy as deeply as you'd come to understand a character from your other novels? Was there a different way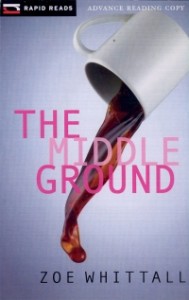 of going about coming to understand what she was?
ZW: Because I wrote this book in about three months, the bulk of it in a few weeks, I wasn't as immersed in the story as I was with Bottle Rocket Hearts (ten years) and Holding Still (three years). I went about understanding her more methodically, strategically almost. All of my other characters generally appeared to me in those magical unconscious moments and, and then once I figured out some of their basic personality traits and personal histories, I slowly started making them do things. I knew Missy had to go through the story I'd decided ahead of time, so I got to know her in terms of what I know had to happen.
I: What is considered "simple" vocabulary? The vocabulary level didn't seem terribly conspicuous as I read your book– did you have to work against your own writerly instincts to make it work, or did it come fairly naturally?
ZW: Sentences had to be shorter, and vocabulary had to be at a certain grade level. I can't remember which one. When I handed in my first draft, the editor said they had to take it down a few notches with regards to some word choices, but that's about it.
I: As a writer, what lessons did you learn about plot?
ZW: I had to insert some sort of conflict into each chapter, she always had to be making a decision or reacting somehow, so that it would move along. I suppose I learned not to be afraid of action, because it can be difficult to write in a way that is not cliche and television-like.
I: I can't imagine how difficult it must be to be an adult with low literacy, and having most learning resources at your level geared towards children or idiots. So what a wonderful novel The Middle Ground is, in addition to a riveting read for anyone. Have you had the opportunity to receive any reader feedback on your novel?
ZW: Yes, it must be very difficult. I have not had any opportunity to hear feedback yet. Because it was just nominated for a Golden Oak, I will be making some author appearances in libraries and I hope to meet some readers at that point. It's an entirely new market to me, so I'm looking forward to connecting with potential new readers.