November 14, 2010
Talking About Detective Fiction by PD James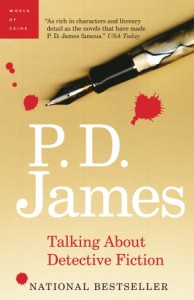 I am a detective fiction neophyte– I only read my second Dorothy L. Sayers last week. The book was Strong Poison, featuring Harriet Vane who'd been introduced to me in the marvelous Gaudy Night. And I thought  it was fitting that I follow up Stong Poison with P.D. James' nonfiction book, Talking About Detective Fiction.
It's possible that I am exactly P.D. James' intended audience here. Long prejudiced against genre fiction of any kind, though with a penchant from very young for smutty true crime books, but there you go. I found my way into detective fiction via Kate Atkinson, and her Jackson Brodie. I became addicted to television's Midsomer Murders (which is based on the books by Caroline Graham). I also like Susan Hill, and recently enjoyed The Dead Politician's Society by Robin Spano. I particularly adored Sayers' Gaudy Night which, as James asserts, demonstrates that "it is possible to construct a credible and enthralling mystery and marry it successfully to a theme of psychological subtlety."
But there is a lot I have to learn, such as that "crime fiction" is an umbrella under which detective fiction falls. The sacred rules of detective fiction, which all the best writers find ways to creatively skirt, including that the criminal must not be a character whose thoughts the reader follows, the detective should never know more than the reader does, no more than one secret room or passage, no intrusion by supernatural elements, no twin brothers or doubles unless the reader has been prepared. That there was no such thing as detective fiction before 1842, because there had been no detectives (or at least not in England– it was the year the Metropolitan Police came into being). The eternal allure of Sherlock Holmes (and one of the funniest parts of the texts is when James questions, at length, the reasons why H0lmes and Watson had continued to share a small flat from which Watson would have to retire to the bedroom when guests came around). James deals primarily with English detective fiction in the book, but devotes a chapter to the very different direction taken by the genre in America, with "hard-boiled" detective stories about Sam Spade and Philip Marlowe. I also particularly liked her chapter "Four Formidable Women", which included Agatha Christie and Sayers.
I expect the true detective fiction devotee might not find a lot here that's new, and moreover could even find plenty to quibble with, but all the same, James' book is clever, funny and engaging, and manages to convey some of the suspense and characterization of her novels. For a reader like me, however, Talking About Detective Fiction is a delight, a fine celebration of a genre I'm looking to know better.