October 20, 2010
Harriet has a meta moment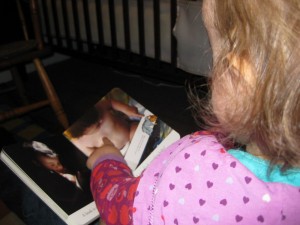 Okay, I'll admit to not being exactly capitivated by the plots, but 17 month old Harriet is absolutely obsessed with the Hello Baby Board Book series by Jorge Uzon. These books have only lived in our house for a very short period, but Harriet keeps taking them off the shelf and demanding they be read to her. When she isn't demanding they be read to her, she is struggling to walk around the house holding all four books at the very same time. Clearly, Uzon has found an audience for his beautiful photography.
Our favourite part of all the books, however, is in Go Baby, Go! when the baby discovers another baby within the pages of his book. And the amazing thing about this is that he has discovered the Night Cars* baby! We love Night Cars, and pointing to the baby (who, when he finally falls asleep, has an adorable tendency to stick his bum into the air) is Harriet's favourite part of the book (except for the fire truck). So to see the baby in her book pointing to the baby in her book, and then to point to that baby herself– I think Harriet is discovering that the bounds between fiction and reality are ever-blurry. Or maybe I'm just projecting.
*Do you know Night Cars? The absolutely gorgeous urban bedtime book by Teddy Jam, who was aka the late novelist Matt Cohen? I bought this book for Harriet when I was four months pregnant, and signed the inside cover "from Mommy and Daddy", which was kind of amazing then. And still is. Its rhymes punctuate our days– "Garbage man, garbage man, careful near that dream. It could gobble up your garbage truck, and then where would you be?" Also notable for being a book about *Daddy*. And donuts.
Anyway, I didn't know this book either until I heard Esta Spalding reading it as part of Seen Reading's Readers Reading almost two years ago. And I am very glad I did.