October 1, 2010
Two best books I've read this year: Mammoth and Light Lifting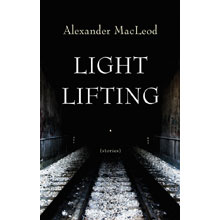 Alexander MacLeod's short story collection Light Lifting never wavers, one solid story after another, and the effect is devastating, gripping, overwhelming. I could hardly believe that the book was this good, and so when I discovered that a friend was reading it at the same time that I was, I got in touch right right away for confirmation. Her take: "This guy is the real thing."
Short stories whose absolutely evoked universes reminded me of Alice Munro in their expansiveness, whose subtly horrifying endings were a bit Flannery O'Connor. Stories so engaged with the stuff of this world, the living and the doing– laying brick driveways, changing an explosive diaper in a disgusting truck stop bathroom, learning to swim, cycling in the snow, crossing the finish line in a track competition, searching for lice, outrunning a train. So vivid that it's hard to believe it's fiction, which is why I had trouble remaining composed at the end of the story "Light Lifting".
These are stories that hinge on a single moment, when one thing turns into another, and yet these single moments are so emblematic of larger stories that each of these stories is a lifetime, is a novel, and utterly satisfying from beginning to end. MacLeod also manages to bridge the literary gender divide, which I found remarkable– how he writes like a woman, and how he writes like a man, and how such distinctions cease to matter with incredible work like this. I am full of awe, amazement, will be foisting this collection on everyone I know, and not a single one of them will be the least bit sorry. They'll all feel as lucky as I do to have experienced this incredible collection.
(See Light Lifting on the Giller longlist.)
**
Larissa Andrusyshyn's debut collection of poetry Mammoth is a study in paradox– how death brings the knowlege of what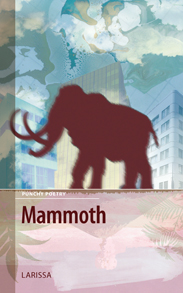 finally endures; the entire universe made containable by the neat equations of its basest parts; that it is poetry unleashing the magic implicit in algebra, taxonomy, molecular biology, zoology. "Snakes are not made from scratch", Andrusushyn demonstrates on the basis of its useless hip bone, and so neither are these poems, which have been created from the stuff of life, from the world. The story of the mammoth carcass from which a genome is harvested becomes conflated with another extinction, that of the narrator's father, and as the scientist diligently searches for what endures, so too does the poet.
Poems such as "Portrait of the Liver at the Open Mic" use humour to break the body down to its parts, show how these parts both function and decay, and to examine the language we use to understand these processes. "Diagram of Flightless Bird" and "Vestigial" connect these parts of ourselves to what came before us, and posit that we carry all history and the universe within ourselves– that we are not made from scratch either. The mammoth and the father return near the end of the book, the poetry asserting that we do not bury our dead after all. That we are a sum of our parts, of now and all that came before us.
Andrusyshyn's book is understated and stunning, slim and expansive, hilarious and sad. Thoroughly engaged with a sense of wonder ("Voyageur") and a sense of play ("The Mammoth Goes to School"). I had such fun reading (and rereading) this collection, and I know I'll return to it again and discover something new. It's a book that manages to not only be transporting, but also to deliver us home.