September 1, 2010
The world is a Pymian place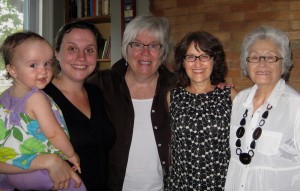 I discovered The Barbara Pym Society before I'd even discovered Barbara Pym, in 2007 when I read this wonderful article on the CBC Arts site. This article was mostly the reason I ended up reading my first Pym book last fall, which was Excellent Women (though I think I was also inspired by a reference in Susan Hill's Howards End is on the Landing.) And that book was the way I fell in love with Barbara Pym, and how convenient that she  had her own society that I could join. They hold annual conferences in Massachusetts and Oxford, both of which are just a bit too far out of my way, but I had a dream of one day getting there, and indulging in a bit of Pym talk with like-minded individuals.
It was to my great joy that I received a letter in July from Judy, a local Pym Society member who was looking for a meet-up. Turns out there are only a few of us in Canada– one in Montreal, three in the GTA, and four in Victoria (which makes it a veritable hotbed, no?). Judy orchestrated a get-together for those of us nearby, was gracious enough to move the venue to my house (as travelling alone with Harriet is less than fun), and we were thrilled to have our third member RSVP, and were pleased that she was to bring her daughter. Because, she and her daughter had visited Barbara Pym's cottage during a trip to England in 2009, and they even met Barbara Pym's sister. (Pym herself died in 1980).
And truly the world is a delightful place, because this group of strangers got together and there was immediately a kinship. We ranged in age (including Harriet) from 1-85, and we entertained one another with stories of how we'd found Barbara Pym, and what she meant to us. How her work is so deceptively simple, and how she invests the ordinary with meaning. Tea was served, scones were eaten (as this was my house, after all). At this point, Harriet left the room, and then returned wearing a hat and carrying a handbag. It was 40 degrees outside and we were sweltering in spite of the fan, but even still, the time went too quick and good conversation flowed. We wondered if Pym had ever fathomed that groups such as ours' would be discussing her work (with such passion) thirty years after her death. Having recently read her biography, I suspected probably not, but I really wish I could have told her. Someone suggested that one couldn't channel a spirit anymore than we were doing just then, and she was probably right.
It was a wonderful gathering, and we're going to do it again, and I think I might have been the luckiest one there because I've still got unread Pyms before me. The others were inspired to reread. We said goodbye with enthusiastic hugs, and after everyone had left, I opened the hostess gift that Judy had brought me, and how thrilled I was to discover (wrapped in William Morris paper, of course) a jar of Ovaltine.
The world is a Pymian place.