September 1, 2010
On having read The Slap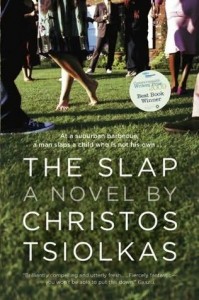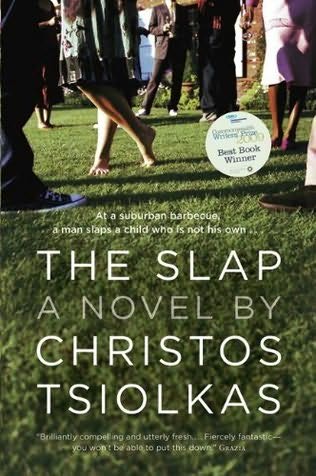 "One of the striking things about so-called literary fiction is that it tends to be not morally simplistic," says Jonathan Franzen in his recent Globe & Mail interview, which means that Christos Tsiolkas' The Slap might be about as literary as they get. Though I'm not so sure that lack of moral simplicity is that simple. What kind of fiction does a book get to be when everyone in it is totally awful?
But let's go back to the beginning. I heard Christos Tsiolkas on a rerun of Writers and Company, and liked the sound of The Slap: a story that takes place at a suburban barbeque in Melbourne Australia, where a man slaps somebody else's misbehaving child. The novel explores the ripples effects of that action, and also deals with the cultural climate of that country: the sons of Greek immigrant communities, their wives whose families come from India, the blonde-haired, blue-eyed "Australians", the aboriginees (and in this case he's converted to Islam, and changed his name to Bilal).
I saw The Slap in a bookstore when I was on vacation, so I scooped it up, and arrived home to find that the book had been long-listed for the Booker Prize, and was being called "unbelievably misogynistic". I read it anyway, because it had appealed to me, but also as a kind of experiment in reading something I wouldn't normally read.
Tsiolkas defends his book by saying that a book isn't misogynistic just because its characters are. Which I agree with entirely, but I think the book is misogynistic if the hatred of women it expresses is so unrelenting, so pervasive that when you get to the end of the book and consider an underlying message, that message is probably, "Mothers are the source of all the world's problems". Nothing in the book refutes this. Motherhood, so says every narrative strand in this enormous book, makes women "selfish, uninterested, unmoved by the world". (Women without children do receive a get out of jail free card).
The women in The Slap are all intelligent, interesting people, but each of them is complicit in her own degradation. Each of them is slim and beautiful, married to brutish men who like to have sex with prostitutes. They also treat their wives like prostitutes when they have sex with them, and pretend their wives are the prostitutes. That their wives are also the mothers of their children inspires a bit of tenderness, but it's usually fleeting. The word "cunt" gets thrown around a lot. These men hate their wives, and they hate their lives, but mostly they hate their wives. Seethingly. Every single one of them.
Also, everybody does drugs. Everybody. It's kind of boring actually, pill popping as a plot device. Is this really suburban reality? Do I not see that kind of thing in my own life because I live downtown.
So why did I like this book? Because it's a soap opera. Because Tsiolkas is a master of plotting, and I raced through this 500 page book to see what would happen next. Because, although I didn't like the answers, the novel posed provocative questions about motherhood and feminism. Because the novel is divided into sections, each from the point of view of a different person who'd been at the barbeque where the slap was slapped, and so we're taken farther and farther into the future each time from a different perspective. The story becomes so layered, and multi-dimensional. Because each section adds pieces that fill out the past, sometimes to completely horrifying ends. Because where do we put our sympathy– disturbing to consider. Who do we cheer for in a crowd like this? What does it mean that we too want to see the kid get slapped? Want to slap him? Because the ending was totally wonderful. Because each character was so vivid, and how get to know them from within and without. Because the novel was unabashedly of right now. Because it was unabashedly everything.
Though I think it could have been more abashed. Seriously, I'm not an idiot. I know that Huckleberry Finn isn't racist, is what I mean, because anti-racism is its underlying tenet, but all I took away from The Slap was that women are everything that's wrong with men, which is everything that's world with the world. That men hate women, blame them for their ills and justifiably so. And there was nothing in the book that refuted this. What am I supposed to make of that?
In the Guardian piece, Tsiolkas responds to such criticism: "I would call them lazy readers. I think they are confusing the writer with the character. I think there's a laziness now in how we read. We read for confirmation of who we are, rather than for a challenge of who we are." Which I get at some level, and he's managed that challenge very effectively, but I don't think my reaction is purely personal. Or maybe I just don't think I really need to be challenged about who I am as a person who is not a worthless piece of shit based upon my gender.