July 7, 2010
Vicious Circle Reads: We Have Always Lived in the Castle by Shirley Jackson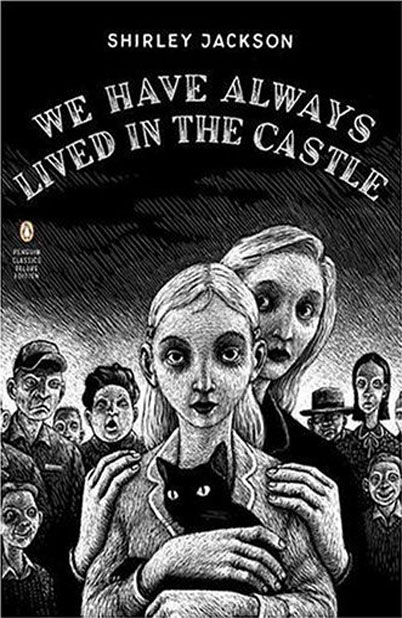 Amazing, amazing. The Vicious Circle assembled again last night to read Shirley Jackson's We Have Always Lived in the Castle. The place was Patricia's back deck, a perfect place for a hot summer night, and conversation was accompanied by a delicious spread, and the coldest beer. There were berries, but Patricia didn't put sugar on top, or poison, and the keylime pie tarts weren't fatal either…
Everybody loved this book, which made the conversation a bit harder to come by than at the last meeting. Though this is a book that conveys itself so subtly that we were glad to have extra minds on hand to fill us in on the bits we'd missed– that Merricat was 18, that the novel was a flashback. Jackson is a writer who explains nothing,  her story's beginning and end wide open to interpretation (and some of the middle too).
We remarked upon the book's unique placement– gothic, but not Southern-Gothic (for once. New England Gothic? Is this even a thing? Because I wouldn't mind reading more of it). Asked when the story took place. we responded with 19th century, 1920s, 1950s and 1970s. Any time after the telephone was invented, I guess, though of course the Blackwoods didn't have one. How the book was nearly fifty years old, but not remotely dated, and now everybody wants to read more Shirley Jackson.
Why was Constance so docile, and so afraid of the world? One of us wanted to strangle Uncle Julian with his shawl. Charles was horrible, and we weren't sure why Constance didn't see through him. Was it her one moment of resistance to Merricat's power? What was up with their dynamic anyway– they were husband and wife, mother and daughter, and sisters? How were they going to get through winter without a roof?
The scene after the fire was terrifying. Interesting how Jackson shifts stereotypes so the village men are the vicious gossips here, and the women are kind behind their backs. We thought that Jonas was one of the best fictional cats ever. We though Merricat was an extraordinary character, escaping every grasp and yet so perfectly captured. We remarked upon the framing of the text– how odd that Jackson situates the book six years after what most would consider the meat of the story (ie the murder of all the Blackwoods except three via arsenic in the sugarbowl). Preservation as a metaphor for Constance and Merricat's life– yes yes yes!!!
By this point, it was so dark we were in shadows, but it was sort of fitting. When the lights came on, the mood was killed, but it was time to go anyway. An amazing evening had by all. Until next time…