June 19, 2010
Important artifacts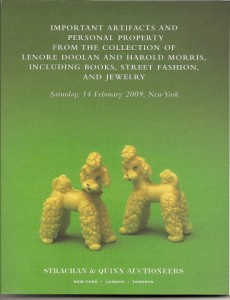 I just finished reading Important Artifacts and Personal Property from the Collection of Lenore Doolan and Harold Morris, Including Books, Street Fashion, and Jewelry by Leanne Shapton, the devourable if gimmicky story in the form of auction catalogue. And thought I do think it must have been exhausting for Doolan and Morris to be so insufferably hip at all times (did these people never buy anything at The Gap? did they ever tire of the kitchsy salt-and-pepper shakers and vintage everythings?), I loved the book a lot, though in the same way I like peering through strangers' windows, looking through people's bookshelves, and perusing Facebook albums of people I've never met.
If Shapton's intention is to tell a story through physical objects, however, it's worth remarking upon that she doesn't succeed. Sure, the story is told, but it's words as usual that do the job– lists stuck into paperbacks, exchanges scrawled on theatre programs, letters unsent and otherwise, emails, and postcards. In essence, Important Artifacts is an epistolary novel, the artifacts themselves serving as espistle storage devices.
Without the epistles, the objects lack in resonance (though they do add a postmodern layer of veracity to the narrative in the same way the family pictures in The Stone Diaries turned that book into something much fuller than a novel). The objects don't tell the whole story though, just as a view through a window doesn't, or a bookshelf, or any infinite number of Facebook albums– but why are these things so compelling all the same?
I wonder if– outside of fictional realms– such fragments come closer to a kind of truth than anything else can? And I wonder how much of the pleasure lies in making the connections by ourselves.