The M Word: Conversations About Motherhood was published by Goose Lane Editions in April 2014.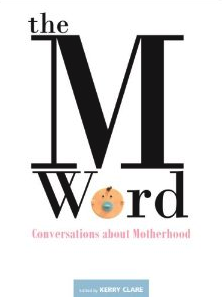 Reviews:
"That's what makes The M Word so surprising, and also moving, gripping, funny, and, occasionally, really uncomfortable to read: the writers put it all on the table, all the confusion, ambivalence, difficulty, suffering, hope, despair, and insight that swirl around people's different experiences with motherhood, whether they are or aren't mothers, however motherhood is defined, and whether their situation arose from choice or accident, gift or tragedy. As many of the writers observe, there's a popular public story about motherhood that is all bliss, smiles, and cuddles. For many of them, there is plenty of bliss, but that's rarely the whole story and often not the story at all. The M Word doesn't try to tell one story: it allows, even insists, on the coexistence of many different ones." —Rohan Maitzen, Open Letters Monthly, July 2015
"Whether you're a mother by choice or by circumstance, a woman without children by choice, circumstance or tragedy, or simply someone who has yet to decide which path to take, you'll find yourself in one of these stories. And not always the ones you'd suspect."–Kim Hart Macneil, Atlantic Books Today, May 2015
"There is a strong Canadian tradition of public discourse on motherhood, from the late journalist June Callwood's interviews with unwed teenaged mothers to Marni Jackson's memoirs, and anthologies like Double Lives and Between Interruptions. The M Word adds 25 thoughtful voices the mix… You won't keep this book; you'll pass it on to friends whose current vocation is changing diapers, or to friends who want a child, and those who don't." –Deborah Ostrovsky, Herizons Fall 2014
"As I finished reading it, a close friend found out that she was pregnant for the first time. As we celebrated her pregnancy, I hesitated to pass the collection along to her. Superstitious and hoping to protect her, I worried about giving her essays on loss and trauma and regret. But women deserve to hear a conversation about motherhood that is as beautiful and scary and messy and complex as motherhood itself. When her experience of motherhood strays from the accepted stereotype, if it hasn't already, she'll know that she is not alone."–Monica Frantz, Literary Mama, February 2015
"…every woman's relationship to motherhood is unique and complex. This notion of mutability is at the heart of Kerry Clare's anthology… this is a powerful collection of stories by Canadian women of various ages, and every woman will benefit from reading it." —Cara Smusiak, Quill & Quire
"[A]nyone grappling with the role of mother is certain to find themselves somewhere within these true stories of pregnancy, IVF, adoption, step children, infertility, miscarriage, SIDS, multiples, dead children, teenagers, abortion and, above all, stories of the searing joy found within the wholeness of a mother's devotion." —Rachel Harry, National Post
"Stop everything. Withhold judgement for a minute. I promise you The M Word is not like any book you've read about motherhood…." —Angie Abdou, The Fernie Fix 
"Rather than attempting to resolve issues once and for all, or to glorify and idealize a madonna-like figure, [The M Word] presents in alphabetical order a wide variety of the experiences of women who have embraced, eschewed or endured the experiences of motherhood in its many, different realities… This book was a pleasure to read." —Susan Fish, Kitchener-Waterloo Record
"The M Word felt like a kind of emotional labour for the three days I was reading. This is a motherlode of deeply personal truths, generous and courageous souls, bearing witness to lives shaped, if not defined, by, well, "life with a uterus," as the foreword suggests." —Sheree Fitch, Telegraph-Journal
"Would I recommend this book? I think so, but with a caveat. I turned to this to find communion, and a road map. To find other mothers facing things my partner and I are facing. In facing so many possible stresses, dangers, and unknowns, what the world needs is more complicated and probably "uncomfortable" representations of motherhood…So yes, I would recommend the book. I would say, it's a start." —Sina Queyras, Lemon Hound
"A book about motherhood that includes those who never gave birth? Those who've been pregnant but never held a child? Halleluiah! Finally: a conversation with no "us versus them." Here is only "us," those who desire to "be connected by this understanding of what it is to love and celebrate your children." The M Word offers what mothers (new and old) need most: to know we're not alone." —Angeline Schellenberg, The Winnipeg Review
"I'm not normally drawn to mothering books but I like Kerry Clare's work, so it was impossible not to be drawn to her anthology, The M Word: Conversations about Motherhood. I knew I'd be in the hands of good taste and good writing, even if, as a Childless Woman, I couldn't actually relate. Well, what happened was this: I found myself not only enjoying the read, but relating. In a major way. Because, as it turns out, the essays are both about mothering and not mothering, about the exultant and the reluctant, the non-mothers by choice, the stepmothers by circumstance, women who will do anything to be come a mother and those who will do anything to not. And in every scenario, the difficulties, joys, fears, the way life is changed for the better and sometimes for the not entirely better. There are celebrations, regrets, and such honesty that it's really quite impossible not to relate." —Matilda Magtree
"The M Word is a book I would have benefited from reading when I was a young mother more than 30 years ago." —Janet Ralph, The Coastal Spectator
"These open-hearted essays are all fascinating and absorbing, and sometimes heartbreaking. Ultimately these writers are speaking, as they take care to point out, for no one but themselves, and they do it tremendously well." —JC Sutcliffe, Slightly Bookist
"I've just spent a couple of days with a collection of essays about motherhood. About life with a uterus, as Kerry Clare puts it. It was like slipping into this wonderful story circle, 25 articulate women speaking honestly of being–or not being–a mother." —Dora Dueck, borrowing bones
The M Word in the news: 
Christa Couture on CBC Unreserved talking about her music and mothering after loss, July 2016
Brain, Child Magazine includes The M Word among Top 10 Humour Books about Parenting, April 2015.
Understorey Magazine calls The M Word "unique and riveting" and features an interview with me. February 2015.
"The Joys of Bringing Up Grandchildren," by Michele Landsberg, excerpted from The M Word, reprinted in Readers' Digest, February 2015.
A Few of My Favourite Things: Non-Fiction, by Sina Queyras, December 2014
The M Word included on Canadian Notes and Queries' Books of the Year list, selected by Carmine Starnino, December 24 2014
Rebecca Cuneo Keenan at Playground Confidential calls The M Word a "Best book bet on motherhood," December 23, 2014
Nice to see The M Word included in some year-end round-ups:  Liz Windhorst Harmer's "Things That Made Me Panic Less as a Parent in 2014"/ Teri Vlassopoulos' Books in 2014/ Great Books Published by SCS Instructors and Students in 2014
The M Word included in Rachel Epp Buller's "Motherhood, Expanded" at Nursing Clio, November 2014
The M Word on Alison Pick's Canadian memoir list at 49thShelf, September 2014
Ayelet Tsabari selects The M Word as a Creative Nonfiction Pick at CBC Books, July 25 2014. 
Nathalie Foy recaps The M Word event at Parent Books, June 19 2014.
The M Word Week at the 4 Mothers Blog, May 2014.
"What Motherhood Taught Me About My Abortion" by Kerry Clare, excerpt from The M Word reprinted in The Huffington Post, May 14 2014.
"In Defence of Single Moms" by Fiona Tinwei Lam, excerpt from The M Word reprinted in The Tyee, May 10 2014.
The M Word is a bestseller in Winnipeg for the week of May 4 2014!
"The only advice mothers will ever need–be you," by Sarah Hampson, Globe and Mail, Friday May 9 2014
Kerry Clare on CBC Manitoba's Up to Speed with host Sarah Penton on Tuesday May 6
"The M Word dispels notion that motherhood is picture perfect" by Sandra Thacker, CBC News Manitoba, May 6 2014
No Apologies: The M Word Book Launch, BookBond, May 2 2014
"Mommy is not a four letter word: New book challenges the modern mommy-wars narrative" by Hollie Pratt-Campbell, Kingston Heritage, April 22 2014
"The M Word" on CBC Ontario Morning, April 16 2014
About The M Word: 
There isn't a mother who hasn't thought of herself as stationed far outside maternity's central zone — that imaginary place where all the babies are cooing, bananas are never bruised, and every woman is comfortable enough in her own skin to disregard a magazine's blaring provocation: Are You Mom Enough?
In this original and sometimes provocative collection of essays, Saleema Nawaz, Alison Pick, Nancy Jo Cullen, Carrie Snyder, and many others explore the boundaries of contemporary motherhood. There are the women who have had too many children or not enough. There are women for whom motherhood is a fork in the road, encountered with contradictory emotions. And there are those who have made the conscious choice not to have children and then find themselves defined by that decision.
Here some of Canada's best writers face down motherhood from the other side of the picket fence. The M Word. It means something to every woman. Exactly what it means is rarely simple.
Other Info:
On the Non-Fiction Anthology as a Revolutionary Act