February 25, 2019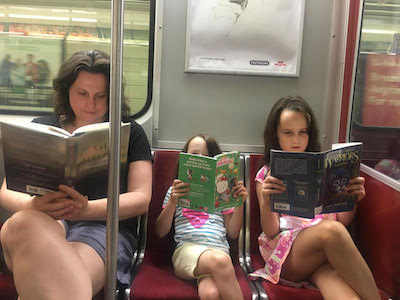 In 2015, when my youngest child was not quite two, I published a popular blog post called "Where I Find the Time to Read," a list of ordinary occurrences disguising excellent opportunities to steal a moment with a book. Understandably, considering my life at the time, many of these occurrences revolved around breastfeeding, which I always found to be a tremendous reading opportunity (and never mind the risk of dropping a hardcover on my baby's head—and she was fine). But now that it's been a few years since I've breastfed anyone, I wanted to come back to that list, provide some update and revisions. Because of course you don't need to be lactating to get that book read. The following are how I still manage to be reading all the time.

A hammock of my own: I may not have a room of my own, but I have a hammock in my backyard set up all summer long in the shade of our silver maple tree. On sunny days, I'll set up my children with a movie, and then head outside for hammock time, which entails at least an hour of uninterrupted reading, and the reading is ideal there. Everyone should have a hammock, whether metaphorical or otherwise.
Be prepared: I've written about this before, about how I've gone to concerts, birthday parties, and even my own book launch with a book in my bag—because you never know when an opportunity for reading is going to arise. Pro-tip: If you're nearly finished one book, make sure you pack another, and maybe a back-up in case the other doesn't take. Second pro-tip: book sleeves are really, really great.
I like my children to be well-rounded: My children are not enrolled in a huge number of extra-curricular activities, but the ones they are involved in permit me to read while they're attending. I work extra hard at scheduling to make sure both children are busy at the same time so that I can read instead of entertaining the other. I read when they're at Girl Guides, piano lessons, and swimming lessons, and I find it infinitely rewarding.
There is no data on my phone: It's much easier to scroll through feeds on my phone than it is to read, it's true, but scrolling on my phone makes the time go by so much faster and in the end I have nothing to show for how I spent my half hour while my children were at swimming lessons, just say. But without data, I can only use the internet on my phone where WiFi is available, which (mercifully!) isn't everywhere yet. It makes my phone less of a distraction and I get a lot of reading done.
Frequent long baths: For me, a hot bath is like a hammock, an avenue to reading. The only real risk is getting into the bath and realizing that you're not really into the book you're reading, so I usually have at least two books piled up on my toilet seat so that there's no possible reason why I might have to get out of the tub.
I read for lunch: Going out for lunch with a book continues to be my favourite kind of date, my ultimate indulgence. Restaurant hostesses really do have to get over acting so surprised when a diner shows up for a meal solo though, and you don't need to make it so awkward by taking away the glass and a cutlery. A good book is worthy of its own plate setting. (Also, when I used to work full-time, I ate my packed lunch with a book every day.)
Public transit: Okay, I don't take public transit on a regular basis (my primary mode of transport is walking, which is also a great excuse to read, except it's winter now and it's too hard to read while wearing mittens), but whenever I ride the subway, I'm reading a book, whether I'm holding onto a straphanger or sitting in an actual seat. (My biggest regret continues to be that reading on busses and streetcars makes me carsick.)
I pack books in the bag en famille: While reading in front of people can be anti-social, there is nothing better than reading together. For long subway journeys, trips to the beach, or to the park, I bring books for everybody. The extra weight is worth it for the extra reading.
I binge-read on my holidays: "How many books is too many books for a weekend away?" so goes the question on social media, captioned to a leaning tower of bookishness. But the question is absolutely rhetorical—there is no such thing as too many books. And I personally consider a holiday a bust unless I've managed to read at least a book every day.
Going to bed early: There is a definite relationship between finding lots of time to read, and being a little bit boring. Once upon a time, when I wasn't almost forty, I would read into the wee hours of the morning, but those days are gone now, particularly since I must now rise early every morning and go for a swim first in order to have the kind of day I want to have. (My inability to read while swimming continues to be one of my life's great frustrations.) So now I tend to go to bed soon after my children do, and leave my phone far, far away, which had result in two solid hours of reading before I turn out the light. These days, this is really how I get most of my reading done.
I stay in bed in the mornings: I do not go swimming on weekend mornings, and instead I roll over and turn the light back on and indulge in a chapter or two. Sometimes if I am lucky, someone will bring me tea. Sometimes my children will also come and visit, but eventually they go away, because watching someone read is very dull.
My limited relationship with Netflix: The only thing I binge on is books—and tea. I like Netflix a lot, but only watch it on the weekends, and usually just an episode at a time. Which means there is always time to read, even on Fridays and Saturdays.
I only read good books: What I mean by this is that I give up on books that aren't working for me. I no longer read books that I think I "should" be reading if I really don't think they're appealing. I also have a trusted list of book experts whose recommendations I always listen to, all of which means that when I am reading, the activity is usually a pleasure. Which is absolutely the way it should be.
This post is part of a larger project I'm embarking upon this year which endeavours to make books and reading more accessible to the aspiring avid reader, that person who examines her bookshelves with guilt because she just can't find the time to get all those titles read, never mind finish that novel for her book club. Stay tuned for more exciting things to come…
February 7, 2019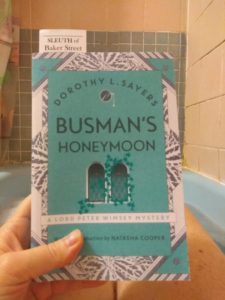 In December, I posted a photo of the book I was reading, Busman's Honeymoon, by Dorothy L. Sayers (which I purchased at Sleuth of Baker Street), and my friend Leah (a Sayers fan) commented in disbelief that there existed a copy of a Dorothy L Sayers book that was brand new. "I bet the pages don't even fall out of that one," Sara added to our conversation, and they really didn't. And as the only other Sayers novels that I've read before have been cheap and battered paperbacks (one that was withdrawn from the North York Public Library), I understood their amazement at my pristine, brand new, spine un-cracked, and with an attractive cover. What does it even mean to read a Dorothy Sayers novel whose pages aren't held together with an elastic band and which doesn't smell like mildew? Surely the experience is a little inauthentic?
But it really wasn't. Great binding and legible text would only add to the experience of a novel that's pretty enjoyable in its own right. A fresh book will be approached with a spirit of freshness as well, which was only further demonstrated to me when I received a copy of Edith Wharton's The Age of Innocence for Christmas later that month.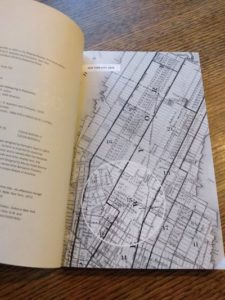 Of course, it wasn't just any copy of Edith Wharton's The Age of Innocence. I'd asked for the edition published by Toronto Gladstone Press (owned and operated by celebrated Canadian book designer Ingrid Paulson), a book I'd decided I had to have when I saw the image of the New York City map circa 1879 inside it. I am a sucker for maps in books, plus there were the opera glasses on the cover, and the beautiful, beautiful spine. Is it possible to fall in love with a book for its spine? Reader, I assure you that it is.
On her website, Paulson describes her mission with Gladstone Press as follows: "Old books aren't always boring. They aren't necessarily hard to read. They aren't the 'bran' of literature (good for you, but not much flavour). They just end up looking that way. So I am trying to change that."
I've never read The Age of Innocence before. Honestly, take an objective look at the covers of previous editions and ask yourself why I'd even want to. Because I felt like I probably should, mainly. (Winner of the Pulitzer Prize in 1921!) But I've got a personal aversion to languid ladies lounging in chairs, and the 1993 movie tie-in edition makes me uncomfortable—what IS that man doing to poor Michelle Pfeiffer's neck? But those opera glasses: that's the book I want to read.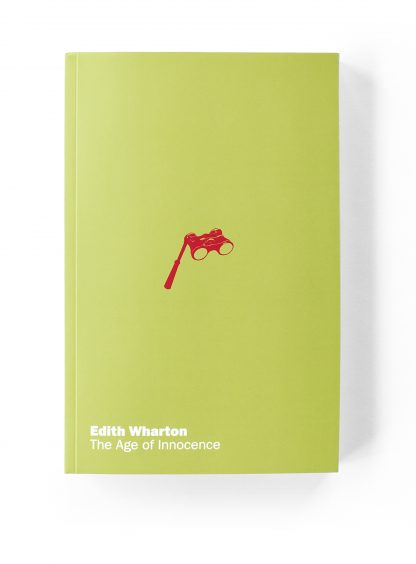 And I loved The Age of Innocence, reading it with a pleasure over a single day during the holidays, nothing bran about it. It was an absorbing story of a once-upon-a-time New York that was also timeless, and daring, grappling with problems of women's liberation that we've still not got our head around a century later. Which is to say that there is nothing stale about this novel, and it was a pleasure to discover it in this beautiful edition whose design provides the freshness that such a book deserves.