August 29, 2013
Destination Bookshop is a new feature here at Pickle Me This! Part book-shopping-spree, part city travel guide, we want to inspire you to visit vibrant neighbourhoods all over Toronto with excellent bookshops as a chief attraction.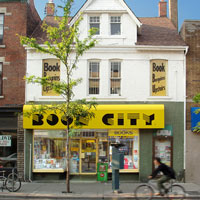 This time we bring you a neighbourhood we know very well, because it's where we live. And part of the reason we love where we live is because the bookshops are aplenty. Keep an eye out for writers too, because quite a few of them make their homes somewhere just off Bloor Street. One of them is poet Desi DiNardo who honours the neighbourhood and its literary legacy in her poem Rainbird in the Annex.

The Shops: Begin at Annex Book City (501 Bloor Street West), which is my favourite bookshop in the world. They have a great mix of new releases, backlists, a beautiful kids' section, bargain books, lots of poetry, and a great focus on CanLit. Their staff are great, and knowledgeable, and the store is really organized. Next, move along to BMV Books (471 Bloor Street West) which sells discounted and second-hand books on three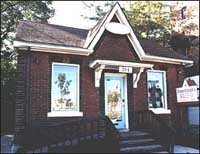 enormous floors. Go south at Spadina until you get to Ten Editions (698 Spadina Avenue at Sussex), a used-book store where you get to climb up a ladder to bookseek in a most romantic fashion. The store is a warren, sometimes frustratingly, but there is a great Can-Lit section in the back. Turn right at Harbord Street, where you will find a whole host of bookshops. Bakka Phoenix specializes in Sci-Fi and Fantasy, and is located at 84 Harbord. Wonderworks is across the street at 79 Harbord and is a new-age bookshop. Caversham Booksellers is at 98 Harbord, and bills itself as "North America's largest mental health bookstore." And then Parentbooks is located just before Bathurst Street in a cute little worker's cottage at 201 Harbord. They have a fantastic kids' book section, as well as books about pregnancy,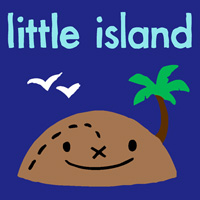 parenting, and kids with special needs. Go north on Harbord to Little Island Comics (742 Bathurst), a wonderful children's bookstore featuring comics, graphic novels, and remarkably-illustrated picture books. (Their parent-shop The Beguiling is located around the corner, just west at 601 Markham Street.) A few doors up is A Different Booklist (746 Bathurst), "opening the door to gems of the Canadian cultural mosaic." And then hit Seekers Books back up at 509 Bloor Street, featuring more second-hand fare and lots of great kids' book in the big room at the back.
Where to Play: We recommend the recently refurbished Margaret Fairley Playground on Brunswick Avenue, south of Harbord at Ulster Street. Even if you haven't kids in tow, the new park features huge armchairs carved from tree trunks that would be perfect to curl up and read in. We do not guarantee you won't get splinters, however… There are also picnic tables if you bring a lunch (see below). Sally Bird Park on Brunswick north of Harbord is a tiny little park featuring play equipment for grown-ups. There is lots of space to roam and explore on the University Campus, just east of the neighbourhood. If it is raining, go hang out at the Spadina Road Library just north of Bloor Street at 10 Spadina Road. And do check out Gwendolyn MacEwen Park on Walmer Road just north of Bloor, which features lots of pigeons and a bust of the famous Canadian poet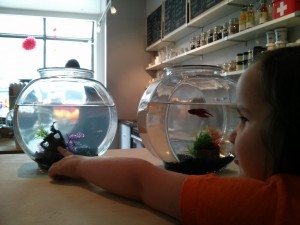 Where to Eat: We are partial to picking up a picnic lunch at Harbord Bakery (115 Harbord Street) and taking it to eat at Margaret Fairley Park. Or you can have lunch at By the Way Cafe (400 Bloor Street West), which has a lovely patio from where you can watch the world go by. Great ice cream too across Brunswick at Sweet Fantasies (398 Bloor Street, open only in the summer). Pick up a coffee and a snack at Red Fish Blue Fish Creative Cafe (73 Harbord Street). And if you're craving something sweet, have a fancy tart from Dessert Trends Bistro (154 Harbord).
How to Get There: By transit, at Bathurst or Spadina stations. If you are driving, there is a Green P parking lot south of Bloor Street at Lippincott.
August 14, 2013
Destination Bookshop is a new feature here at Pickle Me This! Part book-shopping-spree, part city travel guide, we want to inspire you to visit vibrant neighbourhoods all over the Toronto with excellent bookshops as a chief attraction.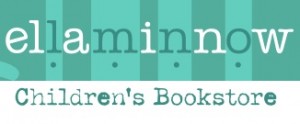 Ella Minnow Children's Bookstore brought us to the Beaches one day in late July. Located on Queen Street East just east of Woodbine, the shop was definitely worth the journey and situated in a neighbourhood with so many excellent things to do.
The Shop: We were warmly greeted upon entering Ella Minnow, and informed that as this was our first visit, we should probably start at the back of the shop and work forward. This was especially exciting because it was in the back that we met the resident rabbit, a white bunny called Marshmallow.
The shop is well-organized, with books for older readers at the back and picture books and those for younger readers at the front. The feel is definitively maximalist, charmingly cluttered even. I love the worn wooden floor. Books are everywhere, displayed facing out and also by spine like a library. Stock is carefully curated for quality, and not a Disney princess in sight. Bewarned that the shop does sell toys, but they're pretty good ones, and many are bookish tie-ins. I'm always up for a bit of Mo Willems plush.
They've got new releases, lovely hardbacks, vintage paperbacks (a wide range of Virginia Lee Burton, I notice approvingly) and a good selection of Canadian authors/illustrators and small presses. After some debate, we settle on Read Me a Story, Stella, the new book by Marie-Louise Gay.
Ella Minnow was a pleasure to explore, and we could have played all afternoon, but there was more to do…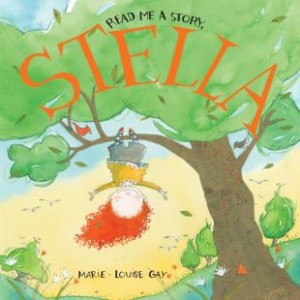 Where to Play: Kew Gardens is a fantastic park just east on Queen Street. The park features an excellent playground with a fun climbing structure, beautiful shady trees, lots of room to rove and explore and so much going on–it's quite the community hub. We made our way through the park down to the beach on the shore of Lake Ontario, and bumped along the boardwalk. On good days, the beach is great for swimming, though it was more of skipping stones day when we were there.
When you get back to Queen Street, make a wee stop at the Beaches Library, a beautiful building and one of the city's historic Carnegie Branches.
And of course, there are plenty of fun and interesting shops along Queen Street.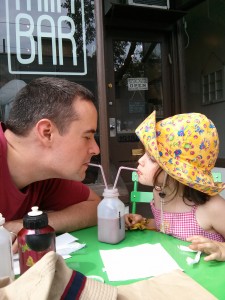 Where to Eat: Attracted by a sign promising free ice cream with lunch sets, we had lunch at Thai House Cuisine (2213 Queen Street East), and it was delicious. Snack-wise, Ella Minnow is well-situated with a Dufflet Cafe next door and even a door between them–great for a cake and a coffee or tea. And don't miss milk and cookies at Moo Milk Bar.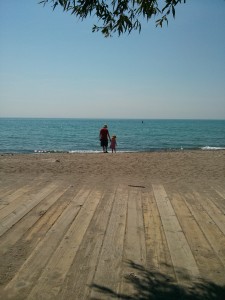 How to Get There: You can get to The Beaches by transit, on the Queen Streetcar (a [slow] adventure in itself) or by taking a bus south from eastern stations on the Danforth line. We elected to drive, however, as these days we travel with a baby and a ton of stuff. The trick of driving, however, is parking, which is hard to come by in the 'hood, and also that the narrow, congested streets are busy and traffic is slow. This is one of those rare "it's the destination, not the journey…" situations.
So what else are we missing? What other great things lie within the vicinity of Ella Minnow? Let us know in the comments in order to make Destination Bookshop all the more comprehensive.
« Previous Page