July 13, 2017
We went to Nova Scotia for the same reason we go anywhere, which is to say that it was bookstore-related. And also that I have a very indulgent family, it is true, who are willing to come along on these bookshop adventures, even if they're not quite as crazy about bookshops as I am (and to be half as crazy about bookshops as I am is a lot of crazy to ask of anybody).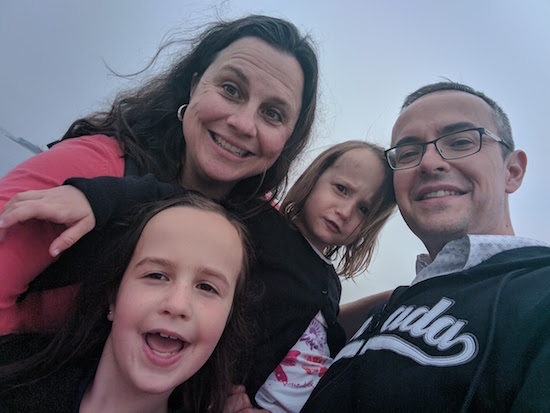 But the thing about bookshops is that are frequently located in interesting places, which makes bookshop adventures about more than just the bookshop. They are also about snacks, and lunch, dinner, croissants, good coffee, playgrounds, picnics, toy stores, and more snacks. In this case, they were also about the ocean, playing on gorgeous beaches, seeing big ships in Halifax Harbour, getting so close to PEI that the road turned red, seeing a bear and a deer by the side of the road on the very same day, collecting seaglass, getting sunburned, and eating lobster and all the seafood chowder, and getting a write-up in the Tatamagouche Light.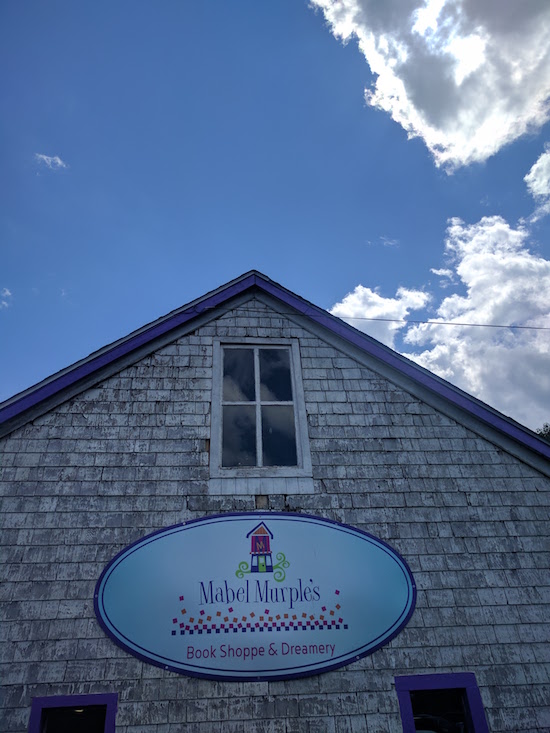 We went to Nova Scotia because Sheree Fitch had opened a bookshop there, Mabel Murple's Bookshoppe and Dreamery, in River John, and also because the rest of my family is made up of new Canadians (i.e. nobody has been a Canadian for more than a handful of years) and we wanted to explore a new part of the country. And so as the rest of the country was celebrating 150 years of settler-colonialism, we were up in the sky above it all, which seemed a lot better than the alternative. We also got to see the giant duck from the air.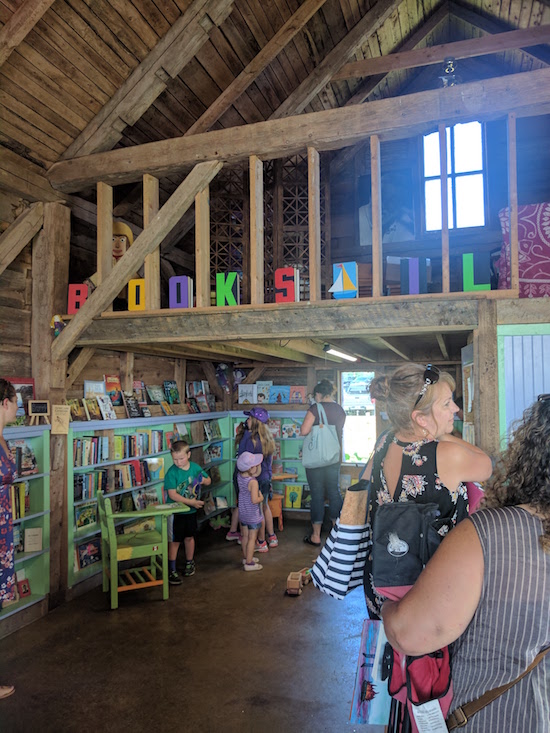 Mabel Murple's was built in an old granary, and it was full of colour and books and magic. The books were terrific, the vibe incredible, and the way the sun poured in through those windows. The carpentry was the handiwork of Fitch's amazing husband, Gilles Plante, and I suspect it was Sheree who supplied the dreams and whimsy…and the colour. The place was enchanting, and while my children have seen a lot of bookshops in their time, even they were impressed. Outside the shop in the sand, someone had scattered tiny purple sparkles, and Harriet and Iris were busy trying to capture some. Opening Day was also the Wordplay festival, so we sat down on our picnic blanket and took in music and readings, plus there were sheep, and a goat, horses and a donkey, a shed that had been painted purple and transformed into Mabel Murple's house and we were all quite delighted as we peered inside.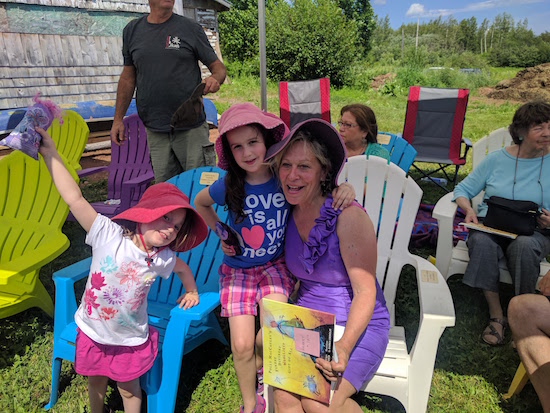 And then we got to meet Sheree, who we met for the first time when Iris was an infant and Harriet was four (remember that?). Sheree, who has the most remarkable ability to make a person feel like the most special person in the world. And there were hundreds of there who came to see her, and I think we all came away feeling exactly that way.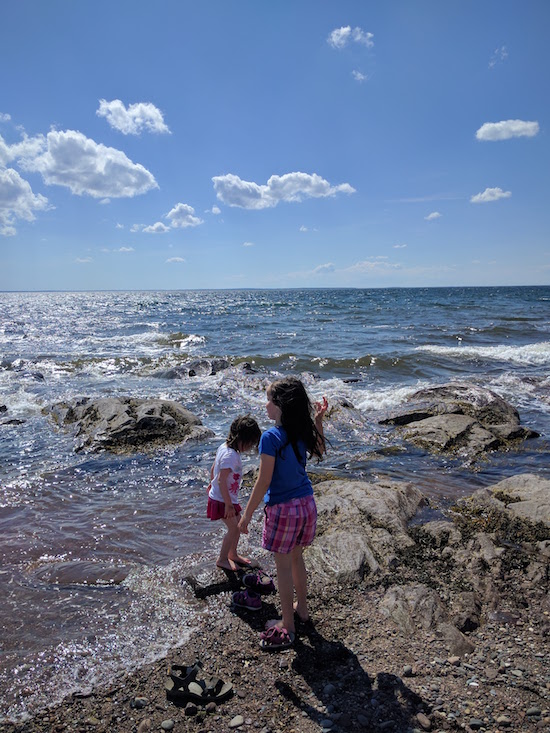 And then we drove up the road from Mabel Murple's to Cape John, because we hadn't properly seen the sea yet. Later we'd discover that it's one of the best beaches in Nova Scotia for finding sea glass. We found some lovely pieces, but mostly just revelled in the goodness of putting our feet in the ocean, feeling the sand and stones beneath them. The sparkles on the wave, those clouds, and that sky. It was one of those holiday moments where we're all thinking, "This is everything everything everything."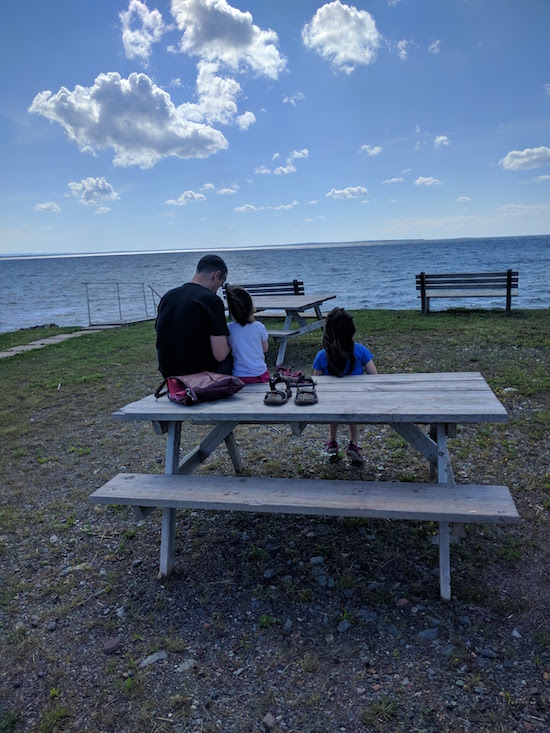 We were fortunate to get the use of friends' beautiful home in the North End of Halifax for our home base during our visit, and we explored the city with such pleasure. Fantastic meals, fun by the harbour, the Africville Museum, the Discovery Centre, the Farmers' Market, the Central Library, Woozles and The Bookmark, and so much more.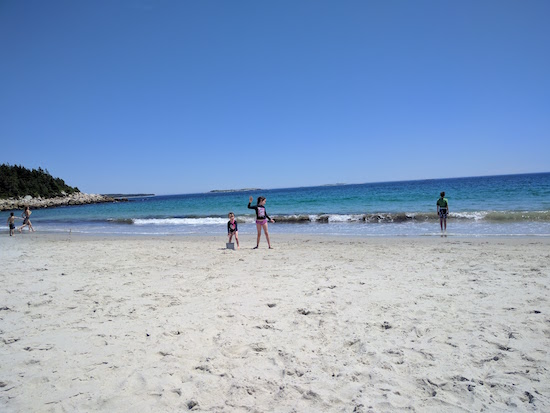 We spent a wonderful afternoon at Crystal Crescent Beach, with white sand and blue water that could almost trick you into believing that you were in the tropics—except the water was cold.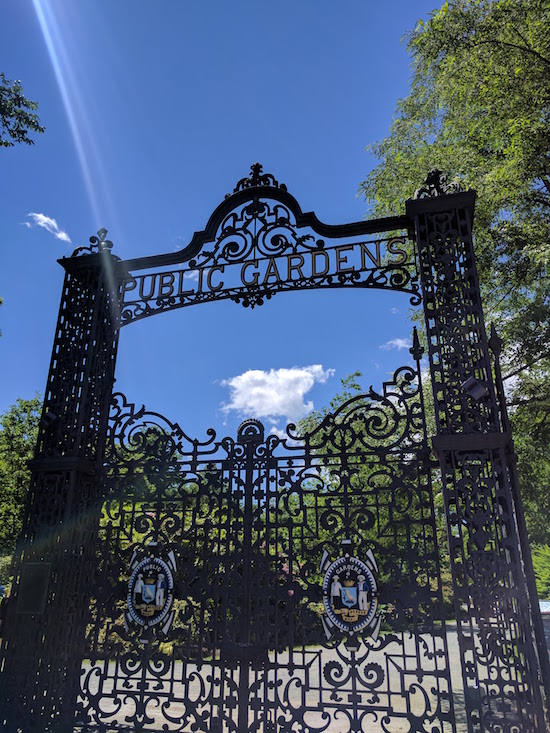 We loved the Public Gardens, which reminded us all vividly of the book Mary Poppins in the Park, which we read not so long ago, because there was a park keeper and bylaws and everything. It was pretty magic and we got ice cream, and were given a tour by Rohan Maitzen, who I've been a fan of online for awhile now and it was very nice to meet properly in real life.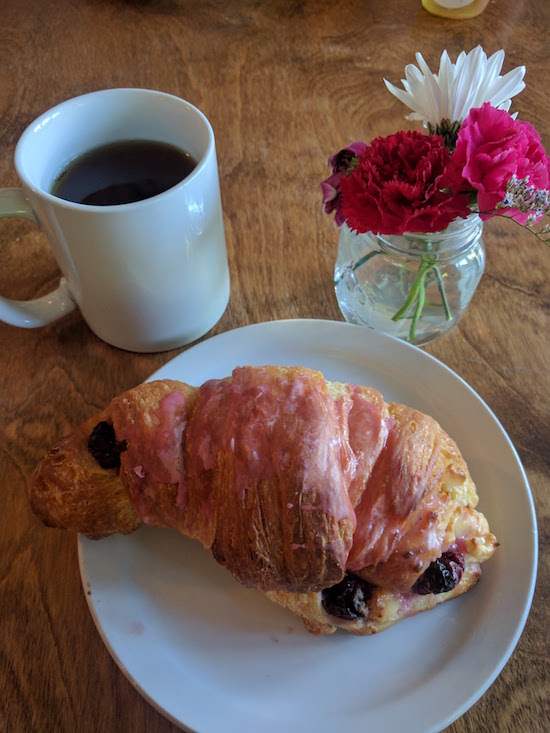 Tragedy struck on our final morning in Halifax—we ran out of cereal (oh no!) and therefore had to have our breakfast at Two If By Sea in Dartmouth, whose croissants we'd tried early in the week and they were so extraordinary that we had to make a return trip. Sour cherry cheese, guys. It was seriously the most delicious thing ever.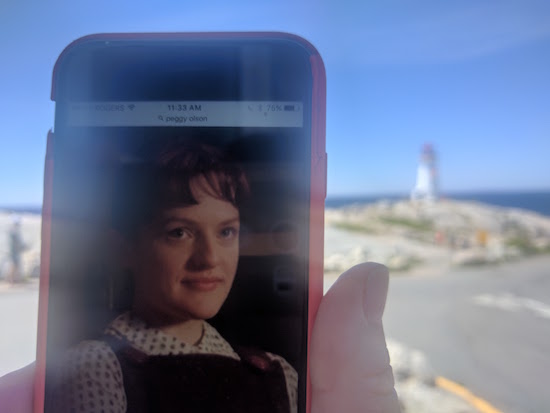 Someone threw up on the way to Peggy's Cove, as you do.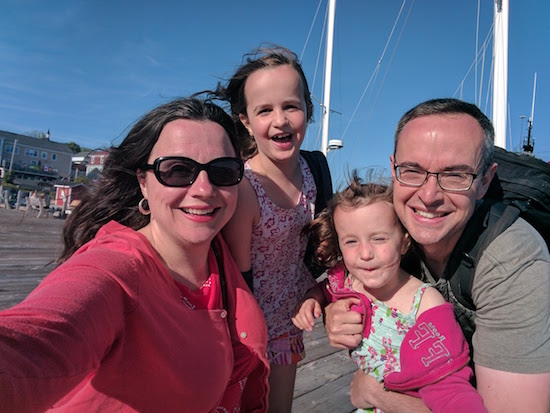 And then we were in Lunenberg! UNESCO World Heritage Site, BABIES!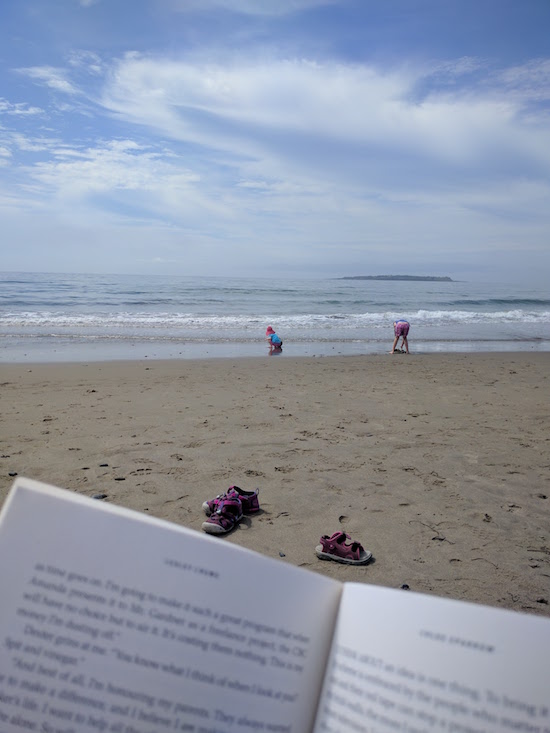 There was lobster dinner to die for, and then we spent the next morning with Hirtles Beach to ourselves (the puke bucket subs in nicely for a sand pail, FYI) which was so magnificent (even with grey skies and shrouded in fog) that we felt like we were in a story.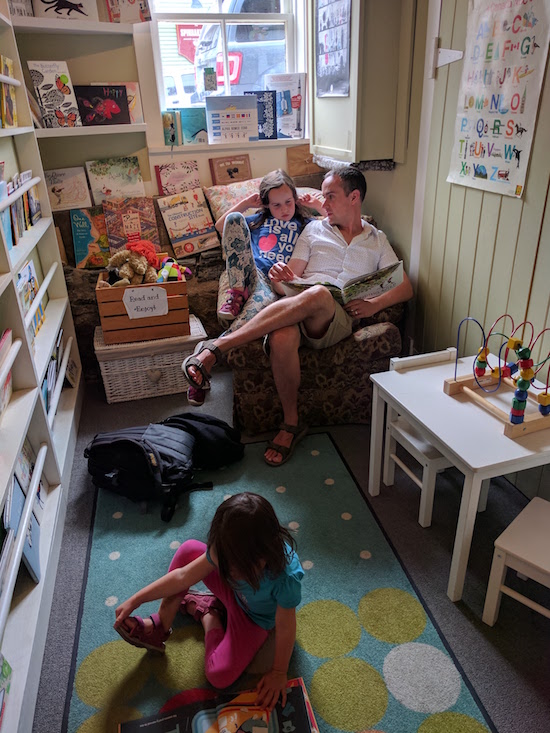 And speaking of stories, we got to visit Lexicon Books, where I'd be doing a reading that evening. I'd seen photos of the store on social media, but they did not even come close to how great the space was in real life, and how good the books were.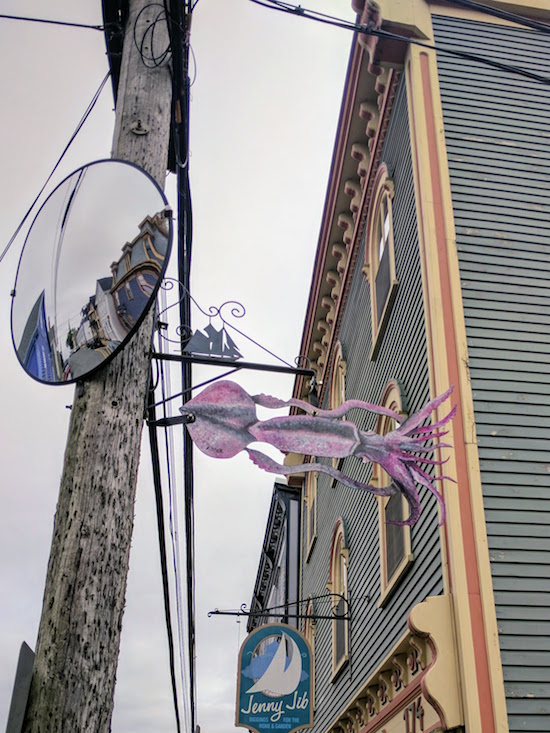 So there was more, squids in the street, and our excellent B&B, and incredible things to discover 'round every corner in Lunenburg.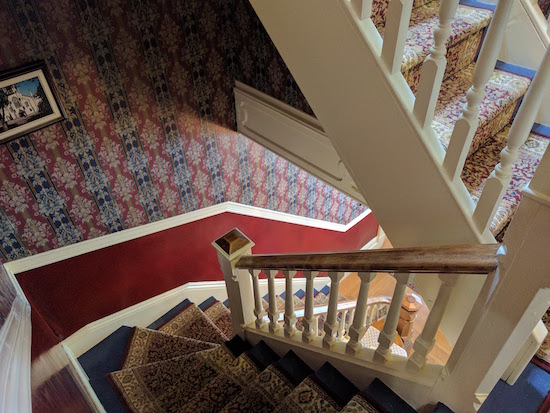 The reading that night was terrific, and I was pleased to be there with Johanna Skibsrud and Rebecca Silver Slayter—and I had a good time reading Rebecca's novel In the Land of the Birdfishes for the rest of the weekend.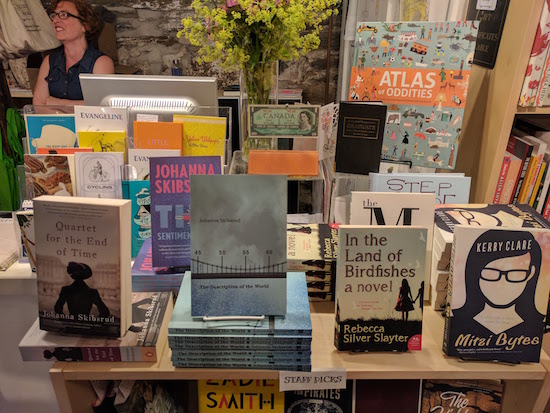 We stopped in Mahone Bay on our way to the airport, to get sandwiches and oatcakes for the plane, and for one last bowl of chowder, not to mention a quick look for sea glass in search of some elusive lavender glass. Which was not meant to be. Next trip, I guess? I hope so.
Quick! Somebody open up another bookshop….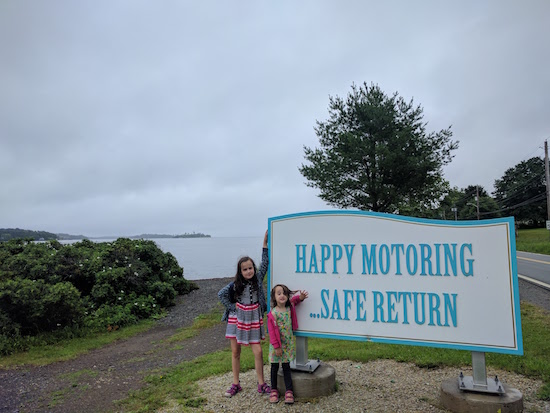 Next Page »