June 13, 2018
An Ocean of Minutes, by Thea Lim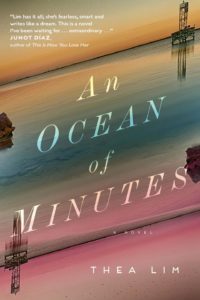 So the book whose spell I'm currently under is Thea Lim's An Ocean of Minutes, which is just another one of your usual time travel/flu pandemic/post-apocalyptic fare. (Ambitious, yes?) It's 1981, and Polly and her boyfriend Frank are stuck in Texas where he comes down with the illness that will kill him unless they can secure life-saving treatment. And the only way to pay for this treatment is possible is for Polly to sign a contract to travel into the future and becoming a bonded worker for TimeRaiser, the company that invented time travel and which is now bringing workers from pre-pandemic America into the future to help rebuild the nation. So Frank and Polly agree to meet again in 1993 and she departs from 1981 at the Houston International Airport: "The only thing remaining of familiar airport protocol is the logistical thoughtlessness of the curb: once you reach it, the line of unfeeling motorists waiting behind you means only seconds to say goodbye." Twelve years. "It's a quarter of a blink of an eye in the life of the universe."
But the process is not straightforward (and there have been rumours about TimeRaiser; plus Polly is one of the few skilled workers—an upholsterer—on the journey, and most of her fellow travellers are women Polly thinks might be Mexican, women who don't speak English, who are even more desperate than she is) and Polly arrives not in 1993, but in 1998, and in a reality nothing like she'd expected. The pandemic has destroyed infrastructure and industry, societal order has collapsed, and the only hope for Texas is health-tourism for the affluent, and Polly will be employed refurbishing furniture for the new resorts because there are no means to manufacture new things. She'd last seen Frank in 1981, just days ago, and then weeks, then months—but it's been seventeen years for him in a world that's become a nightmare. Will he even be waiting for her? And if he is, how will she even find him?
There is nothing straightforward about the passage of time, which is why stories about defying chronology through time travel continue to fascinate, and why a telling a story outside of chronology can add such richness to a text (i.e. how Lim's novel moves back and forth between Polly and Frank's life in Buffalo from 1978-1981, and to Polly's journey alone in 1998 Galveston). What it means too that the future Polly travels to in An Ocean of Minutes is set twenty years in our past—historical speculative fiction? And the metaphor that the seventeen years Frank has to wait is but moments for Polly—but isn't time like that? And isn't love? How long does one wait? How far does love go?
The people Polly encounters in 1998 are ruthless and awful, which is probably why they've survived, but at what price? There is no beauty in this craven new world, in which workers are slaves to the TimeRaiser corporation. Polly enjoys brief moments of connection with the people she encounters, but many of them end up betraying her—mostly to save themselves, or boost themselves, at least. She ends up losing her privileged job and accommodations, and going to live among the women she'd come across at the beginning of her journey, working to cut tiles for swimming pools. And although everyone she encounters has stories of people they were to expecting but failed to be reunited with, Polly refuses to give up on Frank, and it seems like she's keeping the faith for everyone.
There's so much going on this book, including passages of wondrous prose and attempts to answer the question of where love goes when it's over. What are we do with memories? And what about mementos? Early in their relationship, Polly wonders by Frank's tendency to keep things, souvenirs of their love—does he think their love will end, she wonders? Does he hold on things because of a lack of faith? And yet even Polly longs to preserve their perfect moments, just to hold them. And yet the hours, the minutes, the seconds—they just go and go and go. So is it remotely reasonable to expect love to be a thing that stays the same?
I had to know what happened, so I kept reading, reading, gripped. But (unusual for me) I didn't flip to the end, just to check. I didn't want spoilers. I wanted to find out what would happen, but all in good time, and I had faith in Lim's storytelling—so I held on, and was so impressed by the extent of the allegory, about race and gender, migration, capitalism, environmental and the perilous balance of so much that we take for granted.
I loved this book, and how it turns another time into another country, but doesn't it always seem that way? So far away, and yesterday, and it's as though you could almost get back there, and you nearly know the way.