June 6, 2011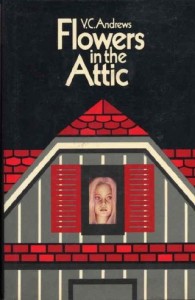 I haven't read much YA fiction since coming of age, and though I do raise eyebrows at adults who read it exclusively (what? I'm just passing judgment…), I've got no case to make against the genre itself. Because YA made me into the reader I am, one that reads voraciously, and I am sure that's because my YA books were packed with subject matter that was no less than fascinating: namely the "kidnapping and pederasty and incest and brutal beatings" for which this bizarre piece maligns modern YA–not to mention a whole lot of sex. Here, I highlight the best of the sordid:
Forever by Judy Blume: This book is infamous, it has teenage sex (on a rug!) and a penis with a name. Also, a grandmother who disseminates Planned Parenthood paraphernalia. Is probably the main reason any teenager ever got pregnant. Or used birth control and didn't.
Sunshine by Norma Klein: Norma's books were always a bit sexy, but this one in particular. Also, it was based on a true story, but what YA novel wasn't? The story of Jill who is a divorced, teenage single mother who is not only having an affair with a hippie on a mountain top, but is dying of cancer.

Looking On by Betty Miles: This book sat on our toilet cistern, so everyone in my family has read it a lot. It's the story of Rosalie, who becomes infatuated with a young couple from the community college who rent a trailer in her backyard. No blatant sex, but Rosalie is totally miserable, and spends a lot of time fantasizing about the young man's thighs beneath his cut-offs.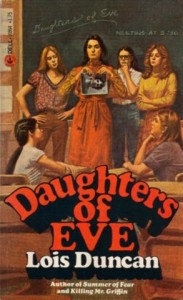 Daughters of Eve by Lois Duncan: A militant feminist manifesto about a group of female students bent on vengeance for the inequality in their everyday lives. Incredibly violent. There is also, naturally, sex. (Do see all of Lois Duncan's other books if you think that modern YA fiction is disturbing).
Hey, Dollface by Deborah Hautzig: This book is about two miserable teenage girls who explore lesbian relations together. I read it over and over, in particularly the part about breast fondling.
Tiger Eyes by Judy Blume: Misery galore: Murdered dad, broken dreams, the atomic bomb, and an annoying aunt called Bitsy. Though I was mostly drawn to the part where she gets it on with her boyfriend under the boardwalk.
Flowers in the Attic by VC Andrews: The sex was incestuous, but that was all right with me!
Then Again, Maybe I Won't by Judy Blume: And boys can be miserable too! Here, we're dealing with a brother dead in Vietnam, class struggles, and a boy who uses his binoculars for "bird watching" if you know what I'm saying. Because the teenage girl next store never closes her drapes.
Sweet Valley High by Francine Pascal: Don't hate me, but I didn't love these books. Mostly because there wasn't enough explicit sex. But there were enough boyfriends, misery, backseats and post-game parties that I could read what was going on between the lines.
Face on a Milk Carton by Caroline B. Cooney: Just wanted to point out that my generation liked to read about kidnappings too, and that we turned out all right!