July 19, 2021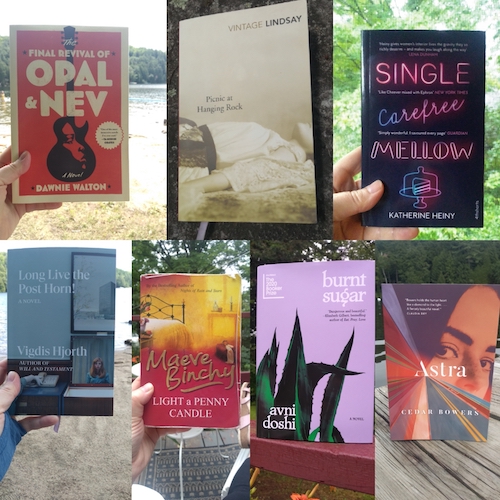 How I spent my summer vacation! So nice to read such an eclectic selection of fiction.
The Final Revival of Opal and Nev is one of the most hyped books of the season, and I really liked it. A fictional oral history of a 1970s' pop act, it's also a fascinating treatment of how race and gender can eclipse talent, and a withering indictment of white allyship.
I picked up Picnic at Hanging Rock after it was included on the Topaz Literary Summer Reading Round-Up, and I am so glad I did, because indeed it's a sultry, languid read, weird and disturbing, the story of the unsolved disappearance of three school girls in turn-of-the-century Australia.
Single Carefree Mellow was everything I was hoping for in a Katherine Heiny book, so sparkling and weird, and definitely a riff on Laurie Colwin who knew better than to assume that love and infidelity were interchangeable, because real life is more messy and complicated. The only problem is that now I've read all her books, and so she has to publish another one pronto
I read Burnt Sugar next, by Avni Doshi, so unrelentingly bleak, kind of holding up a magnifying glass to its characters so we could see ever errant hair and enlarged pore, and there was so much ugliness. I didn't like it, but that's not to say it wasn't really good.
And then I read Long Live the Post Horn next, by Vigdis Hjorth, and wasn't crazy about it initially. I am allergic to the works of Ottessa Mosfegh, and this was kind of similar in the beginning, not far from the bleakness of Burnt Sugar, with characters numb and detached, but then it clicked for me, mostly because it's about hope and the postal system, which is definitely my jam. And I don't think I've ever read a Norwegian novel before.
After that: Maeve Binchy! I read Circle of Friends years ago when I was a teenager who cut out pictures of Chris O'Donnell from magazines and hung them on my wall, but never read anything else, deciding that Binchy was for biddies, but for the last few months I've been listening to the You're Booked podcast and they talk about her all the time, and so when I found Light a Penny Candle in a Little Free Library, I brought it home, and it was delightful, which I don't say about most books more than 800 pages long, and it only became COMPLETELY ridiculous in the last few chapters, which is pretty impressive. A really wonderful look at friendship, and also of women who are allowed to be different and now just foils.
And finally, Astra, by Cedar Bowers, which I started on the last night of our trip, a novel in pieces, and I am waiting until I get to the end of give my assessment, but maybe smart people are saying many good things about this book.
Next Page »