June 12, 2017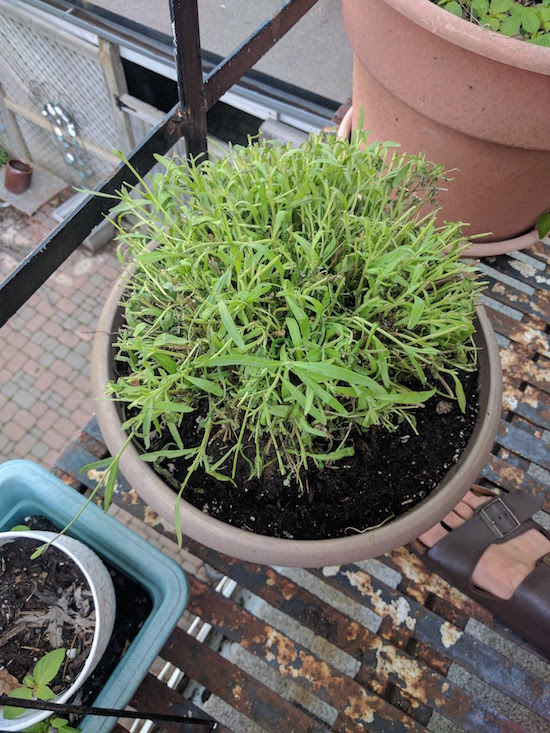 On Saturday night somebody attacked our lavender bush with a sharp stick, clearly with the intent of destroying it. Yes, the lavender that we bought two years ago in order to replace the shrub that someone tore out of our garden in a (we think) drunken rage. It was discovered Sunday morning half dug up, roots torn, sad and limp. Particularly sad because it had been so lush, flowers just on the verge of blooming. Poor little lavender, and we speculated about the culprit—was it a man who (like someone rather close to home) had become frustrated with his wife's compulsion to add lavender to everything, and just decided he couldn't take it anymore, every single bite of everything tasting more than a little like perfume? Or someone further over the edge, plagued by demonic lavender visions, a stake in the root the only real solution?
Anyway, we have found that tending a community garden is an excellent exercise in living with the world, in coming to terms with its realities. What kind of asshole would so something like that? But the thing about the world is that there are all kinds of assholes, and accepting this is part of life. And so we focus instead on other things, that we have a community gardening group to whom we could direct our gardening emergency questions: Can This Lavender Be Saved? I got an email back in a half hour or so, that depending on root damage the plant could possibly survive by being trimmed back and repotted in a small container for the summer and given a restful summer. We got on it straightaway and the lavender looks much less sad now. Also, the city is donating plants for community gardeners and we'll be able to order a new lavender for our planter. All is not lost. We'll keep tending our garden, and putting up with the jerks that try to wreck it and/or steal our plants is all part of the experience. We'll keep planting our seeds and helping them grow, because this is the world we've got, and when it isn't awful, it's really beautiful. The one and only too.
Today marks a year since the Pulse nightclub shooting in Orlando, an event that was terrible in itself but also marks the beginning of what I think of now as The Very Bad Time, one that hasn't yet concluded. Jo Cox's murder, then Brexit. I remember walking home from soccer last summer on the most beautiful evening (there were rainbows) and then hearing news of atrocities in Nice. The election in November, so much awfulness since. And more devastation in London and Manchester these last few weeks, each of these events strung like beads on a terrible, awful string. It is a difficult time to be in the world. Life is so hard and random, even when there aren't maniacs committing acts of murder on busy streets. There is uncertainty, and sadness, and so much loss. So much awful commemoration.
Such much juxtaposition too. How do you make sense of it? I remember the Pulse Nightclub news at the end of the most splendid summer day, a day that smelled like sunscreen, tasted like ice cream, and sounded like the splash of waves on the beach. It was a day that became legend in our family, because we hadn't had a plan at all—it just happened. And then yesterday we wanted to do it again, to return to the Beaches Arts and Crafts Sale, to have a picnic in Kew Gardens, play on the climbers, have dinner on Queen Street, and so spend so much time that time slows down hanging out beside the lake, collecting beach glass, and looking for other interesting things.
Efforts to orchestrate good days can easily go a bit wrong. There has be room for them to happen, and I was thinking about this yesterday as we planned our day. ("Isn't it nice to think that tomorrow is a new day with no terrorist attacks in it yet?") Plus, I was wondering about the beach. Water levels are at record highs—more dread of course, global warming. Will there even be a beach? I'd seen photos of the lake right up against the boardwalk.
I love beach glass. I love that the intersection of humans and nature can result in something so precious and beautiful. I love that the story isn't all bad. I love that beach glass by definition is sharp edges worn smooth, that collecting it is an exercise in paying attention. We started collecting beach glass last summer, to what end I'm not sure yet, perhaps just for the sake of having it. I usually resist the urge to own things I find in nature, but beach glass is different, and I don't know that the lake really minds if we take it away.
And the thing I learned yesterday is that high water levels and diminished beach equals an abundance of beach glass—it's all been swept ashore. We found loads of it, huge pieces, a veritable treasure trove. I think too about the high water levels in the context of Leanne Betasamosake Simpson's "Big Water," about the lake reclaiming itself. The positive ecological benefits of what's happening, all the things that might grow, might be discovered.
In spite of everything, and maybe even because of everything: we had a very good day.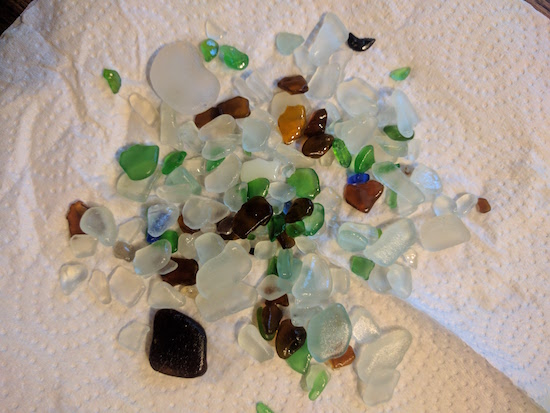 "To me, the grounds for hope are simply that we don't know what will happen next, and that the unlikely and the unimaginable transpire quite regularly." —Rebecca Solnit, "Woolf's Darkness"
Next Page »