December 20, 2017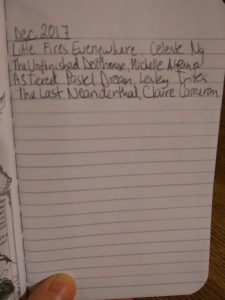 I broke, I did, in the very best way. I entered 2017 in a tizzy about whether to list my books or not to list them, and then in December I read Pamela Paul's My Life With Bob and the decision was made: now I have a Bob ("book of books") too. I'm even going to quit Goodreads, because keeping track of my reading was the one good thing that site did for me, but I've gone analogue. And I'm so happy about that.
I started blogging about books in 2007 because I needed a deeper way to engage with my reading—otherwise I was reading too quickly and the books passed me by. And while the blog has served me very well in this respect during the last ten years, I've found myself getting a little bit confused about its place in my reading life—if a book gets read but I don't blog about it, does the book then even matter?
What I like about the Book of Books is that it's antisocial, as reading is, as reading was meant to be. It reminds me that I read for my own sake, and for the books themselves, instead of as a public performance. I've had a busy year in which I've worked hard to confine my work (of which my blog is a part) to daytime hours, evenings preserved for (you guessed it…) reading. And so I've had less time to write about all the books that have come my way—and that's okay.
Even though it bothers me a little bit (can you tell I'm neurotic?) that I never told you how much I adored The Lesser Bohemians, by Eimear McBride, even though I was pretty sure I wasn't going to like it at all, or what a pleasure it was to read Catherine Graham's deceptively c0mplex debut novel Quarry—maybe I won't quit Goodreads after all because I like the opportunity to give stars to a book like that. I kind of went on book vacation at the end of month, so I read Celeste Ng's Little Fires Everywhere purely for fun, and Claire Cameron's The Last Neanderthal. It feels like a luxury to not have to formulate an opinion. A luxury just to be reading.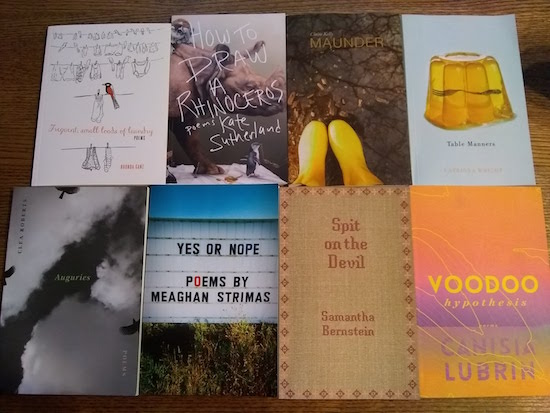 The poetry too! I've read a lot of poetry this year that meant a lot to me, but because I can't/haven't taken time to articulate those experiences, it's almost as though they never happened. But they did. And I take solace from that—how much of a relationship between a reader and a book is just so absolutely personal and no one else will ever know about it. And nor should they, necessarily.
I never told you how much I loved S.K. Ali's Saints and Misfits, or Jon McGregor's Reservoir 13 (which is a wonderful companion to Rebecca Rosenblum's So Much Love). I read the weirdly subversive The Misfortune of Marion Palm, by Emily Cullitan, in August, and didn't tell anyone at all, which seemed deliciously indulgent. The book's cover did match my hideous bathroom exactly, however, which I discovered while reading it in the bathtub, and I posted a photo on Instagram for posterity. I know some discerning minds get frustrated by #Bookstagram, and its artfully arranged books with no indication that anyone's actually reading them. But I like it actually, that I get to read it, and you get to know about it, but I don't have to do any more work than that.
Perhaps the moral this entire blog post is that I am tired.
Counting down to Friday, when I'm going to go offline for a week, maybe two, and devote my life to reading four fat biographies I've been saving for just this occasion. Last year I read bios of Monet, Jane Jacobs, and Shirley Jackson, and this year it's going to be Svetlana Stalin, Joyce Wieland, Vita Sackville-West, and P.K. Page (whose name just took me far too long to remember. Not P.D. James, I knew, but my mind offered no alternatives. Maybe I am really really tired).
Anyway, so far I'm enjoying my Book of Books, and have relished the experience of adding each new title, making the joyous act of completing a book even more remarkable. And there are are so many blank lines and pages before me now—what a gift to be able to fill them.
Next Page »