December 14, 2015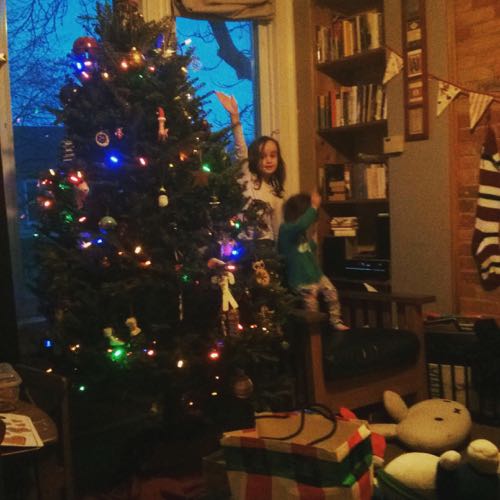 If there is a better time in the year than this to have to spend three weeks in bed, I can't think of it. I'm finally feeling well, rested and relaxed, emerging back into the world again (…slowly, slowly….) to realize that it's Christmas. I've come a long way since a week ago when I thought I was feeling well-er, but wasn't. This weekend I didn't leave the house, but was mostly out of bed, and we put up our tree on Saturday (which Stuart carried home from the store by himself) and decorated, and then did all the Christmas baking yesterday. (All has been extensively documented on Instagram.) Today I have a doctor's appointment at 2pm, and I'm hoping she's going to give my lungs the all-clear, and then I'm going to finish up my Christmas shopping at nearby shops. I'm even going to take the subway instead of a taxi, which is a sign of health for sure (and also, I am not a millionaire), except that I'm forbidden to exit Spadina Station at Walmer Road because when I tried to climb those steps three weeks ago (before I knew it was pneumonia) I almost died. Today it will be escalators all the way.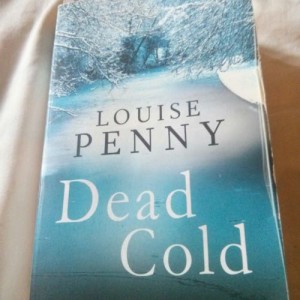 And oh, there has been reading. Holiday reading. Any new or notable book released lately, and the very intriguing ARCs that are beginning to arrive for Spring 2016 have all been set aside as I'm going through my shelves noting the not-new and un-noteable—a trend that began with Astonishing Splashes of Colour by Clare Morrall last week, which I liked so so much and might have lingered on the shelf forever had I not finally picked it up looking for an inconsequential read. After reading the compelling and very strange Girl in the Dark (and oh yes, are misery memoirs ever effective at making one feel better about everything in general), I picked up Dead Cold by Louise Penny—somehow we've ended up with a stack of Louise Penny UK editions; this one was released in North America as A Fatal Grace. And it turned out to be a cozy murder mystery that takes place over Christmas, which was perfect. It's not dead cold here, but it was lovely to be back in Three Pines and over the holidays no less. I love Louise Penny's Gamache series so much, but got into it quite late in the game, so am playing catch-up with some of the earlier novels.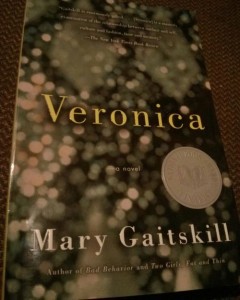 And then I started read Veronica by Mary Gaitskill. Her new book, Mare, is on several notable lists of 2015, but remember I'm doing un-noteable, and Veronica has been sitting on my shelf for sometime—another book I found in a box in the summer, I think. And I'm really enjoying it. It reminds me of Jennifer Egan, Good Squad and Look at Me, except I like it much more than I liked the latter.  I read Gaitskill's collection, Bad Behaviour, a while ago, and mostly remember it was conspicuously dated with references to obsolete technology. She is also a bit too gritty for me, and nobody is ever putting the kettle on or going to church (always a criticism in my books), but I am really enjoying Veronica, and this might be the perfect way to get to Mare. When I return to notable things.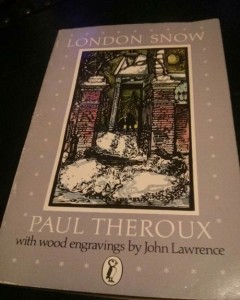 And finally, we finished reading The Horse and His Boy, and convinced Harriet to take a short Narnia break so we could try something else as our family read-aloud. Last Christmas, we were reading The Children of Green Knowe, and I've been looking forward to a similarly seasonal read. So I picked up London Snow, by Paul Theroux, which I know nothing about, except that it is a Christmas story and it was a gift from our friend, Zsuzsi. And while it doesn't seem so seasonal—we have no snow, and temperatures have been in the double digits (which after two wintry, wintry Decembers I kind of feel is a reward I've worked for)—we are definitely under its spell. A strange story that takes place in a sweet shop, whose proprietor is called Mrs. Mutterance and keeps muttering and uttering odd phrases that none of us understand, and her adopted son Wallace sleeps in a hammock in the hall and she has to yell at him to stop pendulating. In the weirdest way, it reminds me of Graham Greene's super-strange Christmas picture book, The Little Steamroller. Sinister things afoot, and all, and yes, because of snow in London.
I can't wait to find out what happens next.
Next Page »