December 11, 2013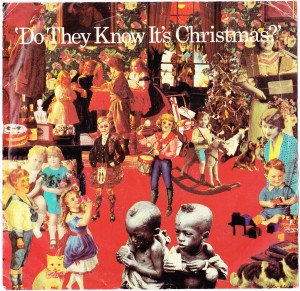 1.
In 1984, we got the Band Aid album for Christmas, a gift from my mother's younger sister, my aunt. I was five. From that same aunt, my sister and my cousin received leg-warmers for their Cabbage Patch Dolls. I don't remember what I got, but it was not the Cabbage Patch leg-warmers, and this was profoundly upsetting. I remember that when the Band Aid album was unwrapped, my older cousin (who would have been ten or eleven) was excited, and put it on the record player straight away. Being ten or eleven, he was hip to the ways of the world and its zeitgeist, just like my young aunt was. I thought them both impossibly cool, and decided the album was worth knowing about for their interest in it. I knew about the famine in Ethiopia, about what the singers were singing about.  I'd seen it on TV. But I have no recollection of my immediate impressions of the song itself. I was far too upset about the leg-warmers.
2.
Every Christmas for the next few years, I would spend a huge amount of time studying the album art for Band Aid's "Do They Know It's Christmas". The images were fascinating. On one side, ornate Victorian Christmas imagery, the kind that illustrates "The Night Before Christmas" or a Christmas card. This was juxtaposed with a photo of two African children with spindly limbs. I don't know if the photos showed the children's distended bellies or flies landing on their skin, but I'd seen enough television coverage to know all about it. The African children were in black and white, while the rest of the album was rich and red. This could perhaps be the beginning of my impression that Africa was a colourless place.
(Two decades later, I'd read What is the What by Dave Eggers, explore the website of the book's subject, Valentino Achak Deng, and be so completely shocked by the greenery and colour in photos of his home village in Sudan. The Africa of my mind was an imaginary place. Where nothing ever grows, no rain or river flows. I suppose.)
2.1
And then I would turn the album over. On the back was a photo of all the musicians who'd come together to make the record, assembled in rows like a school class photograph. This was interesting. Even more so was a copy of the image with just squiggly lined silhouettes of all the people in it, each silhouette marked with a number. The numbers corresponded to a list of the musicians, so that I could find out who was who. This was a curious matching game, a sort of passive paint-by-numbers too.
It was also a useful game because I didn't know any of these musicians, except for Phil Collins (who looked kind of out of place) and Boy George , who I knew from "Karma Chameleon" and remembered because he was a man who liked to dress up like a girl. But I knew he was really a man though because he said so: "I am a man without conviction. I am a man who doesn't know how to sell a contradiction." Though looking back, he seems quite good at selling contradiction. It is possible that the lyrics to "Karma Chameleon" cannot be read wholly earnestly. This would not occur to me for many many years.
Here is another contradiction: In fact, Boy George didn't even appear in the picture, which I only realize now when I double check. This is confusing. I swear he was there. I am remembering his image from the video I think. I guess he had somewhere else to be when the picture was taken..
And now I have gone off on a tangent, which is what usually happened when I stared at these images. I was obsessed with this album. I kept getting lost in it.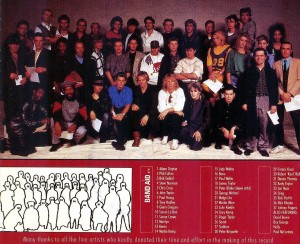 Actually, Boy George would not have looked so out of place in this photo though. Many of the musicians in the photo were androgynous, men (I think?) with long hair and a few women with masculine faces. Perhaps this created the effect that there were more women than there actually were, though there are only a few. Curiously, the women are all lacking surnames. They are called Marilyn, Keren, Sarah and Siobhan. I have just Googled Marilyn, and he was actually a man called Peter, so there you go. Basically there were only women in the shot because they'd invited Bananarama, who introduced themselves on the b-side, the vowel in banana pronounced like "ah" which made the band name sound much less stupid than it was. I knew Bananarama because on my Mini Pops album was a recording of "Venus".
There was one other woman in the photo and she was remarkable for a couple of reasons: she had two names (which were Jody Watley) and she was black. This latter point she had in common with the three men on the left-hand side of the group. Which made for 4 black people in total in the picture on the back of "Do They Know It's Christmas", but at least that was twice as many as were depicted on the front.
George Michael is in the picture, but I would not recognize him until "Faith" came out in 1989. There is someone called Midge in the picture too, which added to my speculation about Band Aid and gender, but he was definitely a bloke. The guy in the front with the sunglasses in his shirt–he was wearing dirty white socks. And Johnny Fingers–what kind of a name was Johnny Fingers? The world was a curious place.
3.
I love this song. Somehow it has become a classic, up there with "Feliz Navidad" by Boney M and any version of "Oh Holy Night". I love the bells that ring a descending line right before the "Do they know it's Christmas time at all," lyric. I love the oomph of, "Here's to you" and the oomphy echo of, "Raise a glass for everyone." The rhyme of, "Underneath this burning sun" is so perfect. I love when Sting (because by now I know who Sting is) sings his name in the line he's given. The drama behind a lyric like, "the clanging chimes of doom." And Bono, oh, Bono. When you delivered your, "Well, tonight thank God it's them…" line, the rest of your life story was written.
I love the juxtaposition of the song's lyrics, as blatant as on the album's cover. It is Christmas time and there's no need to be afraid. We do indeed live in a world of plenty (or at least I do). I want to believe that it's as simple as us and "the other ones." That if we just pray for them and buy a rock and roll single, us and a ragtag bunch of scruffy pop-stars can right everything that's wrong. It is Christmas time, and I totally want to throw my arms around the world.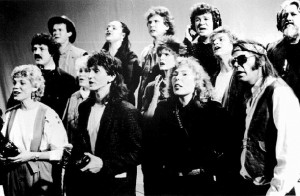 4.
If my bad taste is reflected in my terrible taste in pop music, you should probably know that I can't get enough of charity singles. I watch the Band Aid video on Much Music, and I cry. Basically, put a pair of headphones on anyone and show me them singing passionately with their eyes shut, preferably when when shaking their fist emphatically. "There comes a time when we heed a certain call, when the world must stand together as one…" And there is nothing I love better than times like that. "Tears Are Not Enough," "We Are the World," even "That's What Friends are For." I can't get enough of this stuff. If I think about this, it is probably because modern life is dulling and we're desperate for feelings, even if the come from a can. I also like to kid myself that the world's big problems have solutions (and that these might possibly begin with a bunch of guys with guitars putting on a show).
5.
There is a gradual awakening. This has a lot to do with geography. Africa is not a place where nothing ever grows, no rain or rivers flow. I think about the Nile and the Congo, the latter of which is the deepest river in the world. I think about snow on top of Mt. Kilimanjaro (which, as you know, rises like Olympus above the Serengeti) and that it's possible that there will be snow in Africa this Christmas after all. That even if they were using "Africa" as a synonym for "Ethiopia" in this song, the lyrics would be wrong. It was not that nothing ever grew in Ethiopia, but that was did grow was diverted from hungry people due to errant government policies.
6.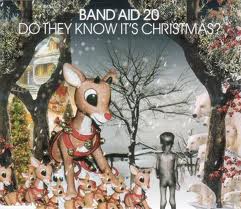 It's not just me who has affection for this song. Its catchy tune and inane (and factually incorrect) lyrics ring out through shopping malls across the land every Christmas time. In 1989, Band Aid 2 was recorded, featuring not only Kylie and Jason, but many other bands including Technotronic and Wet Wet Wet. The single in the UK outsold Madonna's "Like A Prayer". 2004 saw another rerecording, Band Aid 20, which had actual woman's voices, including Sugababes, Rachel from S Club, Natasha Bedingfield and Dido. They were joined by Fran from Travis, Busted, Justin from The Darkness, The Thrills, Robbie Williams and Will Young–a whole host of musicians who'd been topping the charts in the UK during a time in which I'd lived there and listened to the radio incessantly. In the middle of the song, Dizzee Rascal raps. Everybody was showered, and nobody androgynous at all.
When Band Aid 20 came out, we were living in Japan. My friend bought me the single from the Tower Records on top of the FORUS shopping centre. We listened to it on Christmas Day while we drank vodka mixed with alcoholic orange juice. We hadn't gotten the day off. The lyric, "Do they know it's Christmas?," has special resonance that year.
7.
It's more than just a guilty pleasure. If it wasn't, I could just stop, and placate those who slag off Bob Geldof and Bono for their rockstar refusal to live in real world. It all comes down to economic explanations, but then I'm just humming along. Because I've been listening to this song for 29 Christmases now, and it is as much a part of the season as Jesus, the Shepherds and the Wisemen, and I don't really believe in that story either. You get old enough and realize that Christmas is a string of fictions. One of them is that pop music can shape and save the world. And yet. It has shaped and saved just as much as anything, I suppose. Certainly, this terrible, embarrassing song has shaped me.
Next Page »