April 8, 2015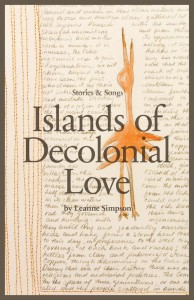 A fouling up on the part of the postal system means that I've ended with two copies of Leanne Simpson's Islands of Decolonial Love, and their mistake might be your good fortune.
From my blog post on the book:
"I can't hold Leanne Simpson's Islands of Decolonial Love in my hand and tell you what it is. I don't want to, actually. To say I'm finished with it, that I get it, that it's just one thing. When these are "Stories and Songs," and tricky and various. Full of voices—I don't know that I've ever read a collection packed with such a motley crew, every one with a story to tell and power behind it (even when lack of power is the story), blending European and Indigenous literary traditions. I read it last week, and then tonight sat down and listened to the spoken word recordings of some of the pieces, set to music. They're beautiful, vivid, and you can listen to them here.

Last week, we had a virtual round table on The State of the Canadian Short Story at 49thShelf, in which Doretta Lau had mentioned Simpson's collection as one that had blown her away. I'd already ordered the book, because Marita Dachsel had mentioned she'd heard Simpson read from it, and it was already included on this list of books by First Nations women (as suggested by Sarah Hunt, who inspired the list). If it hadn't been on my radar already, Thomas King named Simpson as recipient of the RBC Taylor Prize for Emerging Writers last year."
Leave a comment below for a chance to win my spare copy of the book in a random draw. Contest deadline is Friday April 18th. Thanks to Arbeiter Ring Publishing and Canada Post for making the magic happen.