June 10, 2021
Cheri DiNovo, a former Ontario MPP, and retired Canadian Senator Nancy Ruth make the most interesting literary and political companions in recent books The Queer Evangelist (DiNovo's new autobiography) and The Unconventional Nancy Ruth (an authorized biography written by Ramona Lumpkin). Both daughters of Toronto but raised in classes that were divided by stratospheres, each woman has made her career out of embracing seeming contradictions, putting principles ahead of political loyalties, and both identify as LGBTQ (DiNovo is bisexual; Ruth is a lesbian). DiNovo may be a proud socialist and Ruth a longtime conservative, but both women have also found a place for themselves within the the Ministry of the United Church of Canada…though within that institution each would prove herself ahead of her time.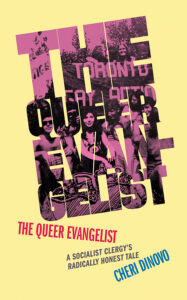 I devoured DiNovo's memoir in two days after reading an article in the Toronto Star about how she wished to show in her book that change is possible and the fight is worth it. Perhaps unsurprising for someone whose true calling is writing sermons, DiNovo is a wonderful storyteller whose easy, informal sentences make for reading that's both breezy and inspiring at once. She tells the story of her traumatic childhood, of living on the streets as a teenage drug dealer, of turning her life around after support from a shelter helped her return to education, and then how she went from being a teenage Trotskyist to running her own headhunting firm during the 1980s' excesses. Her corporate success, however, coupled with its inverse as the 1990s arrived and the economy spilled into recession, led her to spiritual questioning whose answers she eventually began to find in the United Church, where she was ordained as a Minister in 1995. After serving a rural parish, she began to work at an inner-city church in Toronto, helping turn the church's future around by strengthening its connection to the surrounding community. She performed the first same-sex marriage in Canada in 2001. In 2006, she was elected as MPP for Parkdale-High Park in Toronto, a position she would serve in until 2018.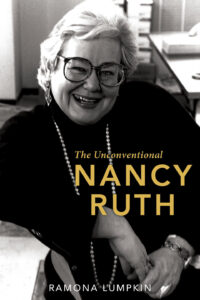 I reviewed the biography of Ruth for Quill and Quire, and you can read my piece right here. Ruth's childhood was not the hardscrabble experience of DiNovo, but it was difficult and traumatic in its own way, and she faced her own struggles to find her place in the world, though she always had her family fortunes to fall back on. After inheriting her family money, Ruth devotes herself to philanthropy, supporting causes promoting women's empowerment. She runs for office twice for the Conservative party, but is both times defeated. In 2005, however, she was appointed to the Canadian Senate, where she used her power from within as she always had—to advocate and agitate for progressive change.
What I find most refreshing about both women is the ways that they managed to get things done by reaching across party lines. In the Ruth bio, it's noted that she donated to the leadership campaign of Ontario Liberal Lyn McLeod when she herself was a candidate for the Progressive Conservative Party, because she wanted to see women in positions of power everywhere. DiNovo was able to work with members of other parties to get significant bills passed in the Ontario legislature even when the NDP was in a third-party position. Both DiNovo and Ruth are far more interested in enacting policy change to improve the lives of vulnerable people than adhering to a party line, or ensuring an election win—and in their doggedness, they really do prove that real change is possible.
Next Page »