June 20, 2012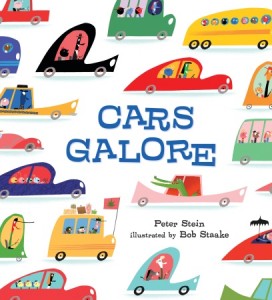 We've had Cars Galore by Peter Stein and Bob Staake out of the library for about six weeks now, and it's starting to look like we'll have to get a copy of our own. It's a pretty simple concept, slick retro drawings of automobiles with accompanying rhyming couplets (and how we do love rhyming couplets). Some of the cars are pretty ordinary– fast and slow, on the go, but then the old car is wearing band-aids, which is fascinating if you happen to be three years old, and there's a fort car, a shark car, and a Noah's Ark car! "Honk cars! BEEP cars! At-a-creep cars. Miles of piles of in-a-heap cars."
We're a car-loving, road-tripping family, and we've never let not owning a car come between us and our love of driving. In fact, it's probably a big reason for that love because we only get in a car about once a month, and so it's always a special event when we do. And because we're Autoshare members, it really has been cars galore around here. Harriet knows more about car brands than the average child from a carless household. We drove the Matrix for a long time, then the Prius, and were getting to be regular drivers of the Mazda 3, when we got a brand new car in our lot. (More about that new car in a sentence or two.) I especially love the "share" in Autoshare, that we get to show Harriet an example of sharing in action (keeping the car tidy, returning it on time, getting excited when we see other Autoshare cars out in the world) as she works hard to learn this vital skill for herself.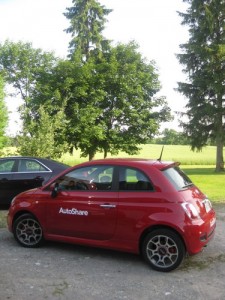 But yes, the car. How we do love "our" Fiat 500, whose awesomeness makes it entirely worth the effort required to get a car-seat into that tiny backseat. It's red!, sporty, stylish, comfortable, fun to drive, and we like to shout, "Fiat 500!" whenever we're on the road, to which the rest of the family responds with cheers. Indeed.
And we especially like that its radio seems to be playing Carley Rae Jepsen's Call Me Maybe whenever we want it to be, which is always.
October 1, 2009
As a person who loves driving but hates cars, I found Andrew O'Hagan's "A Car of One's Own" the very best thing I read today. From the London Review of Books, 11 June 2009. Read the whole thing. Excerpt as follows:
"I could easily say I loved my car – I missed it when I went to bed at night. On that first long drive from London to Wales and thence to Inverness – which took 14 hours – I believe I discovered my autonomy. As with all illusions, I didn't care that others found the enchantment funny: the feeling was new, and its newness is something that millions of people express rarely but understand fully. In American fiction, a great number of epiphanies – especially male epiphanies – occur while the protagonist is alone and driving his car. There are reasons for that. One may not have a direction but one has a means of getting there. One may not be in control of life but one can progress in a straight line. When your youth is over and definitions become fixed, even if they are wrong, it might turn out that the arrival of a car suddenly feels like the commuting of a sentence. It may seem to give you back your existential mojo. That is the beauty of learning to drive late and learning to drive often: it gives you a sense that life turned out to be freer than it was in your childhood, that time agrees with you, that your own sensitivities found their domain in the end, and that deep in the shell of your inexpensive car you came to know your subjectivity. Of course, one may find these things in the marriage bed or in a gentleman's club, but those places have rules and your car is your own bed, your own club. Music? Yes. Tears? Yes. Singing? Yes. Stopping under the stars? OK, if you must. And here is Tintern Abbey. And there is Hadrian's Wall. And should I stop in Glasgow for a drink? If you read the novels of Joan Didion, you will see there can come a time in anybody's life, women's as much as men's, when they climb into their car and feel that they are driving away from an entire kingdom of dependency. The motorways don't offer a solution: they offer a welcome straitjacket. Your car will get all the credit for bringing you home to yourself, for showing you the only person you can truly depend on is not merely yourself, but yourself-in-your-car, a somatic unity. Those who spend most of their lives being alert to the demands of others – and that's most employees, most husbands, wives, parents, most believers – will know the rhythmic, sedative pull of the motorways as the road performs its magic, pulling you back by degrees to some forgotten individualism that the joys and vexations of community always threatened to turn into an upholstered void. Virginia Woolf was almost right: all one really needs is a car of one's own, the funds to keep it on the road and the will to encounter oneself within. Though most of those men aren't listening to Virginia Woolf – they're listening to Dylan's Highway 61 Revisited."