September 29, 2015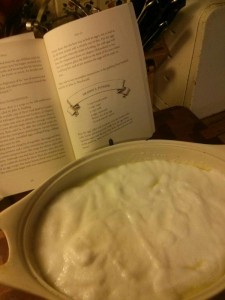 I could never be a food blogger for all kinds of reasons, one of which is that all my pots and serving dishes are indelibly stained and my kitchen is old and grubby (and poorly lit). The other important reason is that I tend to interpret recipes as general guidelines instead of instructions, but in the case of the new book, Sir John's Table, by Lindy Mechefske, this turned out to be an advantage. It meant I was unafraid to take on the recipe for Sir John A's Pudding from a cookbook from the 1880s, a recipe named in honour of the first Prime Minister of Canada, whose instructions included "size of an egg" for butter portioning, no word on what vessel to cook it in, and vague baking instructions as follows: "Bake in oven for a few minutes."
We really weren't sure. "This is an experiment," I kept telling my family, and then asking them, "Isn't living with me a glorious adventure?" No one answered. They were all a bit irritated that our main course had been roast cauliflower. "I bet none of your friends are having pudding tonight in honour of Canada's first Prime Minister," I told Harriet. She looked at me funny: "Mom, do we have any ice cream?"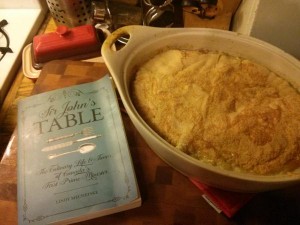 Sir John A's Pudding is from Dora's Cook Book, by Dora E. Fairfield, published in 1888—one known copy is still publicly available. It is a bread pudding, the bottom made with bread crumbs, egg yolks and lots of milk. Spread on top are stiff egg whites and sugar. I baked the whole thing in the oven for much longer than a few minutes (though I can't remember how long now—I am as bad as Dora). When it came out of the oven, the topping was nicely browned but the pudding still seemed a little gloopy ("But gloopy means delicious, right?" I asked. Nobody cheered.) However once it had been resting for a little while the pudding was set, and now it was finally time to dish it up and assess the damage.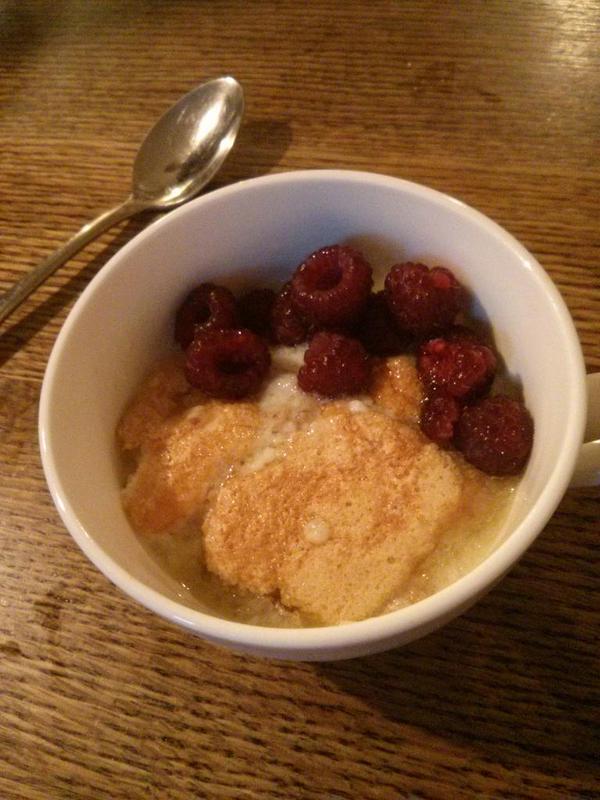 Guess what: it was totally divine. And everyone conceded that living with me was an adventure after all, a most delicious one. I did my I'm always right dance. I always mostly am.
Though not, admittedly, with my immediate assessment of Mechefske's book. Sir John's Table: A Culinary Life and Times of Canada's First Prime Minister as a concept did not seem at first compelling to me, but then I opened it up and started reading. And what I found was an engaging, light and fun and informative text. So engaging, yes, that it led me to attempt archaic heritage recipes, plus the book is also a really interesting biography of Canada's first Prime Minister.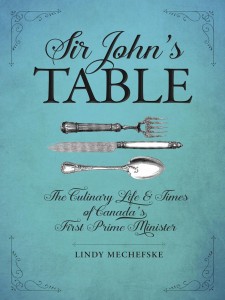 Since we're going all Full Disclosure in this post, I will reveal to you that I've not watched any political debates during this current federal election. As these debates fail the Bechtel Test on every discernible level, are intellectually stupefying AND we don't have TV, I've felt more comfortable getting my political information from newspapers instead. There is something about the absence of women's voices and the general feeling that anything concerning women's experiences is mere frippery that renders most politics (and political biographies) null and void to me. It's grown-ups acting out playground games, and taking themselves far too seriously. It's just inherently uninteresting.
Which is not to say that political biographies must necessarily contain a recipe for bread pudding, or that the domestic is anymore inherently a female purlieu, but it certainly was in the 19th century. Which means that "culinary life and times" of Sir John A. Macdonald is going to give special attention to the women in his life and the personal and political roles they played: his mother, his wives, his lifelong friend who was also a pub owner. We learn about the food (bannock!) his mother brought to feed her family on the long voyage from Scotland to Canada. Also about Macdonald's favourite childhood desserts, how traditional British foods were adapted to North America, wedding cakes from the 1860s, mourning rituals (after the death of his first wife), how the picnics at which he made his famous stump speeches would have been catered (by Mrs. Beeton, at least), and just how a roast duck dinner managed to save the Dominion after all.
For a light book, Mechefske manages to be rigorous about colonial atrocities, juxtaposing a lavish Toronto dinner with Metis and First Nations people starving on the plains at the same time. Her story of the triumph of Sir John A's railroad also includes a legacy of racism and exploitation of the Chinese workers who built it. She manages to balance her portrayal of the generous and charismatic Macdonald with the dark side of his legacy—also his own propensity for problems with drink: "He joined the Temperance Society  again," is a sentence that pops up more than once.
My one criticism is that the recipes have not been adapted for modern cooks, and so are more a curiosity than something the reader can use. Although there is value too in these heritage recipes reprinted as they were, for what they tell us about how 19th century cooks did their work, how ingredients, measurements and cooking methods were different, and also the peculiar stylistic quirks of their writers. And my own experience certainly shows (who knew?!) that the intrepid 21st century cook can have success with these recipes all the  same.