April 26, 2012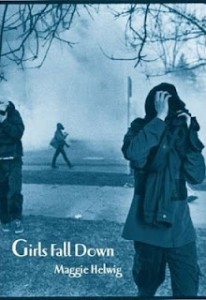 As it was when I first read this book in 2008, the plot is weak, but then plot is not the point in Maggie Helwig's Girls Fall Down, which is this year's One Book Toronto read and also one of the most evocative Toronto books I've read ever. And it's been a funny week on my end, nothing dire, much that's lovely, but just very busy and divorced from the strict routine my life is constructed around usually. Yesterday, I rode the subway so many times I bought a day-pass, and it was a strange thing to be reading this book on the TTC and carrying it through other places where some its most important scenes are set. It was a strange thing also to come home from a gathering where emotions were particularly heightened, and I kept thinking about the line on page 128, "our lives marked always by the proximity of others."
It's such an atmospheric book, and the atmosphere keeps stealing into my own. Today I felt like Alex does: "…everything now seemed to assimilate into the city's larger narrative." Or rather, the city assimilating into Maggie Helwig's narrative. It's remarkable, isn't it, the curious places where fact and fiction meet.  Today I encounter the newspaper headline, "Students, staff at Scarborough elementary school fall ill". ""They did a thorough inspection of the school and carbon monoxide or any other airborne problems were deemed not to be the cause," said… spokesman for the Toronto Catholic District School Board". And even the abortion clinic scenes, and today's attack on Canadian women's reproductive rights.
"So it was like that now, catastrophe inevitable at the most empty moments. Everyone waiting, almost wanting it, a secret, guilty desire for meaning. Their time in history made significant for once by that distant wall of black cloud."
And it's funny because my reaction to this book upon first read was that the Toronto under siege depicted felt so foreign to me– I'd missed the SARS epidemic, and the big black-out. But Helwig's city feels more familiar now, and not just the police brutality since this happened, or how much awful the world is in 2012 as compared to how it was in 2008 (which is much). More amusingly, there's the scene where the pigeon gets into the hospital, which definitely means more since this happened (and the birds! How I have to reread Headhunter).
But I think basically I've just been overwrought this last day or so and that the weather has been funny, but still. What crazy things fiction can do to our minds, and the innumerable ways our stories appear to affect the world.
« Previous Page
—
Next Page »