January 14, 2020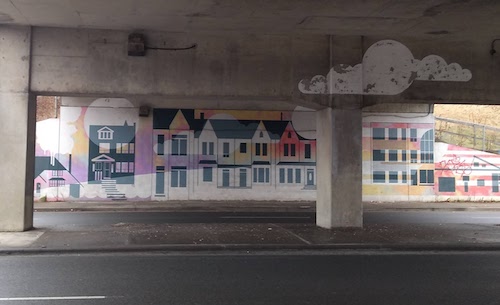 I'm certainly no Faith Popcorn, but I think I called it. Almost exactly a year ago, as part of my 2019 intention to conduct myself with more audacity, I declared The Back to the Blog Movement. Was I not blogging because the world no longer made any sense, or had the world stopped making sense because I wasn't blogging? And as the near year began, I decided perhaps it was the latter, and embarked on a reset and rediscovery of the blog and its myriad possibilities.
And I wasn't alone, because because my Back to the Blog post got tons of responses, brought new readers and blogs to my attention, and—in the true tradition of old-school blogging—inspired a handful of other writers' blog posts, including Meli-Mello (my blogging friend of more than a decade!), Rebecca Rosenblum, Shawna Lemay, and my fave swimming blog.
As the year went on, the movement picked up steam, as CanLit blogging pioneer Bookninja returned to blogging, and Steven Beattie resurrected his blog That Shakespearean Rag, and (tongue in cheek, of course) we all know that it's when men start doing things that people begin to pay attention. (I find blogging and gender fascinating. Of course, it's impossible to talk about blogging in general terms, because blogs can be infinite different things, and a gendered lens only makes it more so. I once read an entire book about the history of blogging that didn't have a single woman in it [nary a mommy blogger, nor a knitter, even!] save for the one woman founder of Blogger, who only appeared in the book while running out of a meeting in tears.)
It was good to have these book blogging stalwarts back, and to have connected with other bloggers too throughout the year so that my own blog-reader got longer. I also started a weekly series called Gleanings, in which I went back to the blog in an old-school round-up sense, posting links to the pieces (at blogs and elsewhere) that made the internet a worthwhile place for me to be a reader.
In March I wrote the post "Why Your Own Small Corner of the Internet is Going to Make the World a Better Place", framing blogging as a way of taking back online spaces, countering the toxicity and meaninglessness of a lot of current internet discourse. "Blogs are important in 2019 because they aren't underlined by corporate interests, because what parts of them we read aren't determined by algorithms, because of their focus on language at a moment when politicians are making meaninglessness into an art form, because of their obscurity even and how they give us the freedom to explore off our own beaten track, because they're not part of an industry that's flailing, dying, desperate. There's nothing desperate about a blog. "
It was the spirit of blogging (and audacity!) that carried into my two big projects of last year, establishing the boutique bookseller Briny Books and my online blogging course Blog School. The idea that small things matter to real people, that little steps can take us somewhere, guided the same DIY ethos that has been inherent in blogging since the beginning. From 20 years (!) of blogging, I have learned that the path is meandering, but it takes us places, and that we get there by putting one good post in front of the other, by simply not stopping. Even when we're tired. Even when it seems like nobody is reading. Even when the world doesn't make any sense, but it's when the world doesn't make sense that we need blogging most of all.
---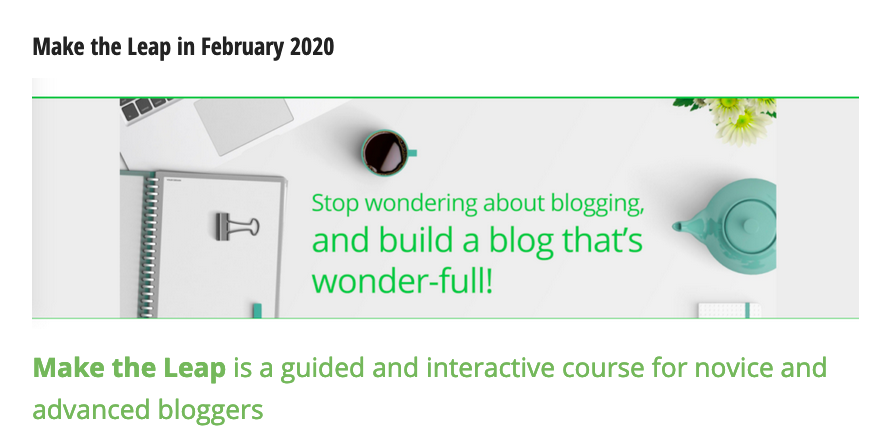 MAKE THE LEAP is the guided and interactive version of my online course. It's running throughout February, and it's an ideal program for writers looking to make the leap to blogging with guidance, feedback, and community engagement. I'm looking forward to spending the month working with a great group of writers, having fun pushing the limits of what blogs can do, and reading and sharing inspiring posts. I hope you'll join us. Spaces are still available, including one last discount space for students already enrolled in FIND YOUR BLOGGING SPARK.