July 9, 2021
The Fourth Child, by Jessica Winter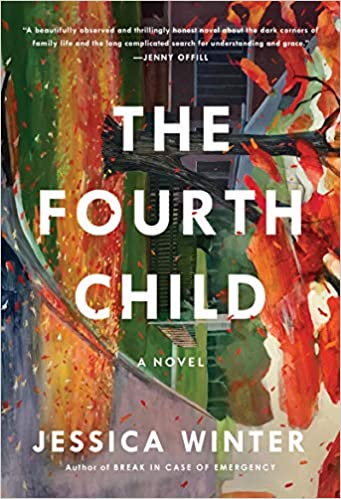 I could not love the cover of this book more, at first glance one of those abstract artful prints that have been splashing over literary novels in recent years but, upon rotation, the picture becomes a landscape, a suburban streetscape complete with a picket fence, and the whole novel is a little bit like that, art and realism, something different every way you look depending on your point of view.
Jessica Winter's The Fourth Child is a novel about abortion and motherhood, but to say such a thing is far too reductive, because this is a book far richer than merely what it's "about." Instead of about, it's a world conjured, decades of history, layers upon layers of meaning, and it begins with Jane, a fervent Catholic schoolgirl who becomes pregnant and marries her boyfriend. Going on to have three more children, and a less than satisfying marriage, and when her eldest daughter Lauren comes of age, she takes on a share of the narrative, consumed with high school social dynamics, Jane existing on her periphery, consumed with her local right-to-life group. But then this arrangement is shattered with Jane brings home an orphan from Romania, a disruptive toddler who's somehow Lauren's sister now, and the extent of her attachment trouble sends each member of this already fragile family to the end of their tether.
But also Lauren is not a satellite, her story the effect of Jane's cause, because she's on her own collision course, and that a daughter can be a part of you and also her own separate universe at once is the confounding paradox of parenthood. Which only makes each character's story richer and more complicated, of course—that our mothers and daughters don't exist for our own purposes, and here they come along, messing up. And I think it's the seeming randomness of the novel's many elements that underlined its artfulness to me, enhancing the texture, the way that all the pieces don't just lock into place, because they don't in the world. The years passing by with culture happening in the background—Buffalo makes a curiously compelling setting here, a player called O.J. Simpson playing for the local sports team, and it's like we can see the 1990s coming. (The Fourth Child reminded me a lot of Ben Lerner's Topeka, the way it traces so many of our current cultural divisions back to the 1990s, when all the players were stepping into formation.)
I adored the way that The Fourth Child complicated binaries, sat comfortably with paradox, and not only dared to show the many "sides" of the abortion debate, but to suggest it's not a debate, but life itself, in all its painful, messy splendour.