April 19, 2021
Tainna, by Norma Dunning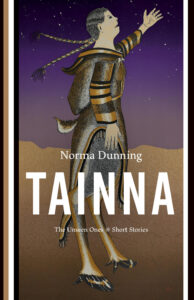 Almost four years ago, I had my mind blown by Norma Dunning's short story collection Annie Muktuk and Other Stories, a collection of heartfelt, page-bursting, ribald gorgeous stories, and as soon as I started reading her follow-up, Tainna, I knew I was in for something just as great. The first story, "Amak," about two sisters estranged for many years who come together again, even though one of them—the narrator—knows she's walking into a trap. The way that decades-old traumas continue to be carried, and how they might be understood so differently by two people who experienced it together, and the nuance of that relationship, of that fraught and agonizing love that will always fail to deliver what either party desires from it—oh, Dunning nails it with such acuity. She gets it exactly right, which is what I love about these stories, their straightforwardness, how there is nothing extraneous or elliptical. They're rich and vivid, and absolutely satisfying, but never trite.
"Kunak" is the story of a homeless man on the streets of Edmonton, Inuk like most of the characters in the collection, whose grandfather has passed on to the spirit world, but watches over him still. In "Eskimo Heaven," a Priest touches the hand of a deceased member of his congregation and is taken on a journey to learn an appreciation for the culture of the people he lives amongst. A group of women just post middle-age get together on the regular to try to snare a rich man in "Panem et Circenses." And Annie Muktuk is back in "These Old Bones," this time from her own point of view, when she leaves the north and her husband after a devastating place and begins to build a new life for herself with assistance from a former foe.
That sounds heavy, doesn't it? And it is, but the story is just as rich with colour and life as it is devastating. Nothing is ever just one thing in these stories, or stays still long enough to be. These are stories of how trauma is born and turned into stories, which is how these characters (and anybody) comes to understand their experiences. These are stories about character, about how character is formed by resilience and grit, and how survival comes from hands that reach out in the darkness, unseen, and how the people those hands are saving are so often unseen themselves, but Dunning makes them known in her stories, in startling, brilliant clarity.