February 12, 2021
A Black Man's Toronto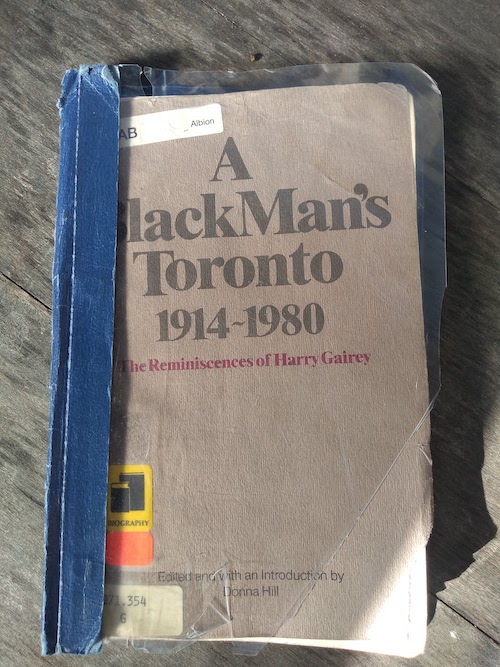 Something I have noticed with Black History Month this year is how Black History is all around, from plaques for Albert Jackson, Toronto's first Black postman, who lived in my neighbourhood, and Olympian Sam Richardson, who attended the high school down the street, to the streetcar rolling by displaying photos of Black Canadians like Lincoln Alexander and Jean Augustine.

Last weekend after I learned that a nearby skating rink was named for Harry R. Gairey, a Black community leader, and he'd published a book, I was lucky to find a weathered library copy. An oral history, transcribed and edited by Donna Hill, mother of writer Lawrence, A Black Man's Toronto was published by the Multicultural History Society of Ontario in 1981.

A few years ago, Kamal Al-Solaylee wrote a piece in Canadian Notes & Queries about the whiteness of nostalgia, our fondness for heritage photos that usually omit the multicultural histories of our cities. How easy it might be to suppose that Black people and Brown people haven't always been part of the history of these places too.

And how our sense of the places we live is enriched by knowing all parts of the history. I know the streets and buildings Gairey writes about in his story, all the churches in Toronto, the school his son attended, the downtown neighbourhood he and his wife lived in before he moved out to Scarborough in the 1970s. The West Indian Club on College Street that burned down in 1968— I would never have known, but for this book. Walked by the place yesterday and felt its ghost.

Gairey was a union leader, became a civil rights activist, and a leader and supporter of Black and other immigrants to the city. He helped to challenge Canada's racist immigration laws and brought forth Toronto's first anti-discrimination laws after his son was prohibited from entering a skating rink.

His history is Toronto's history and I am so glad to know it.