January 13, 2021
The Push, by Ashley Audrain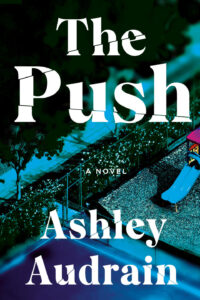 "Sippy-cup sinister" is one of my favourite literary genres, books like Emily Perkins' A Novel About My Wife, Harriet Lane's Her, Melanie Golding's Little Darlings, and other forbears including We Need to Talk About Kevin and Doris Lessing's The Fifth Child.

Helen Phillips' The Need also falls into this category, and I'm still overwhelmed by how perfectly she nailed the nightmare of being awoken in the night to a small child standing over you. As terrifying as anything you'd ever fear discovering under the bed.

And Ashley Audrain gets that uncanny disquiet in her buzzed about debut, The Push, and a woman for whom motherhood fails to take, raising questions of nature and nurture, and eventually culminating in her worst nightmare.

The novel is wholly successful as a thriller, full of twists and surprises, and so compelling in its ambiguity, even if that ambiguity is enraging, but that's the point, the nightmare. (My one criticism is that the back stories exploring the protagonist's maternal lineage seem insufficiently fleshed out and are perhaps unnecessary…)

But I couldn't stop thinking about The Push in the context of Sue Miller's The Good Mother, which I had read just before it. A very different novel, but similarly exploring the ways that mothers are not permitted complexity, whether it's desire, ambivalence, fallibility, or fears.

This is a novel whose effect is to make you uneasy. It resists neat conclusions and doesn't exactly satisfy, which is not a criticism at all, instead a testament to the novel's power—The Push isn't finished with it's reader even after the reader is finished with it.

I'll be thinking about this one for a very long time.