December 1, 2020
Alfie's Christmas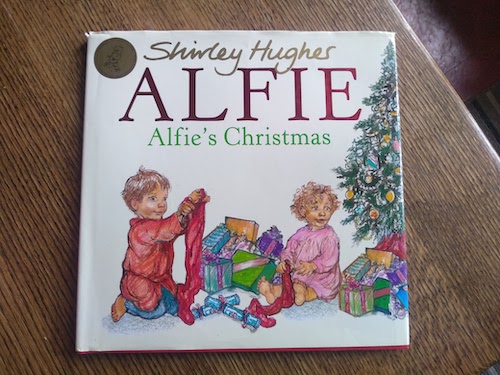 I've measured out my life by the children in Shirley Hughes' Alfie books. I remember when we thought of Alfie as a big kid, and when we wondered what Iris would be like when she was as old as Annie Rose, and then my children kept on growing and now we're looking in the rear view. Alfie and Annie Rose are tiny little relics now, but we're so fond of them (okay, maybe it's just me and everybody else is mostly just being indulgent) that we'll never let them go completely, especially Alfie's Christmas, which is the first book I'll be writing about over the next few weeks as we blow the dust off the titles in our Christmas Book Box.
I love Shirley Hughes scenes of domestic life, the jumble of stuff in her illustrations, the clutter and mess of family life. I also love the shading in her illustrations, rich and vivid colour, but just muted enough that it's sepia-toned. The books themselves are an exercise in nostalgia.
Which is another way of saying that they're also timeless, in away, because they always appealed to my children, books written exactly from their point of view, and my favourite bits were always the parts in the margins—the pets who wandered into the spread, teapots on the counter, when Dad sits on a bench while Alfie splashes in puddles, and how I'd love to go have a cup of tea with his Mum and get to know her—I feel like we'd get along.
Alfie's Christmas is a delight—not much of a plot, to be honest, apart from when they realize that Alfie's new remote control car requires batteries. Alfie gets ready for Christmas, prepares presents for his parents, they put up a tree, carollers come by on Christmas Eve.
In typical baby sister fashion, Annie Rose gets up in the night and rummages through her stocking, and at first, Alfie thinks it's Father Christmas creeping about his room. And then finally it's Christmas morning, and the big day begins, and I like too that their family celebration is a bit modest, which our family can relate to. Alfie's grandmother and her brother (from Australia turn up) and then Uncle Will and Alfie's Dad get Christmas dinner on while Mum and Grandma head to church (taking along some of Alfie's Christmas baking "to share with people who had no home to go to").
Which is to say that these books are not so old fashioned at all, that their coziness is underlined by a progressive sensibility, and while Alfie gets some fun things for Christmas, connection is really what the holiday is truly about. "As they walked home they could see lit Christas trees shining out of all the windows and neighours like the MacNallys and the Santos family with their friends and relations, enjoying themselves, eating nice things, and watching television together."
And oh, the colour of the sky at dusk! The most majestic ordinary splendour.