September 7, 2020
Goodbye, Mildew. It's Been Nice…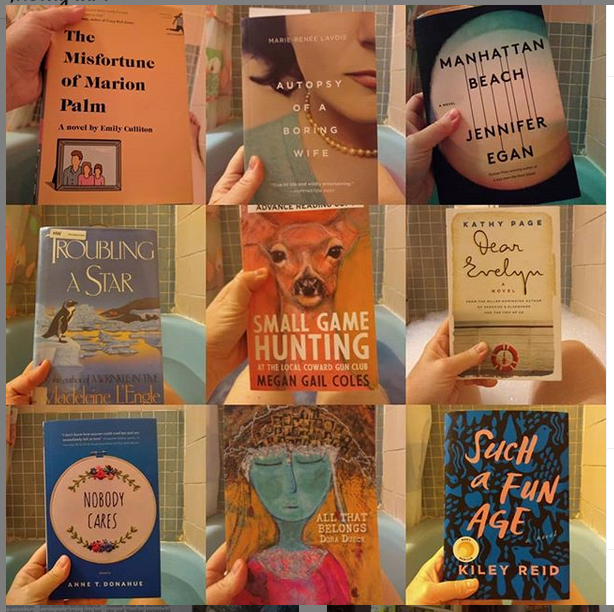 Everything sort of fell apart last week as the job of replacing our bathrooms tiles was undertaken, and then they realized the walls themselves would need to be rebuilt, and then after that the ceiling started collapsing, and it was six days before we were able to shower.
And now we have a gorgeous new bath area, with white tiles and grout that isn't mouldy. Our previous tiles were so gross, and when you tried to scrub the grout, it fell off, which isn't a good thing. At one point, the most substandard contractor of all time had rebuilt the tiles around the faucet in a blue tile that was completely different than the rest of the tub AND actually not the kind of tile you'd use in a bathtub anyway. It was legit the most hideous bathroom of all time, and so naturally, I took lots of photos of it and posted them on Instagram.
Reading in the tub is one of my chief delights. Because I am very spontaneous and wild, I take a bath almost every Sunday evening when the weather isn't hot. It's my favourite way to close out a weekend, to get ready for a week, to be submerged in a small body of water (ideal!) and having nothing to do except read.
It's amazing to me how many beautiful book covers perfectly matched my hideous bathroom. It was like my bathroom as the palette, unlikely, the match uncanny. Check out Manhattan Beach, by Jennifer Egan, on which I was a bit meh, but still—that same blue, that same pinky orange. What are the actual odds?
I won't have to spend as much time strategically placing my book to cover up the most shameful spots of mildew and mould now, but must confess to being slightly disappointed that the new background to my #BooksintheBath posts are going to be so bland.
Don't worry, my bathtub is still blue, so you'll know that it's me.
But clean white tiles?
Very civilized, but it's just not my brand.