August 27, 2020
Want, by Lynn Steger Strong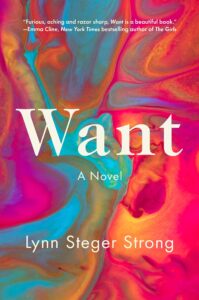 Lynn Steger Strong's novel Want is packed with the same narrative tension that propelled one of my favourite books of last year, Helen Phillips's The Need. Both of them, as is apparent from their titles, about desperate yearnings, longings, cravings, desires. For an escape hatch, for example, from the demands of motherhood, the feeding, rocking, soothing, waiting. For a way out of the trap of anxiety, a detour away from the trappings of modern life.
Want is less overtly weird, however. There is no sci-fi element, intruder in antlers, no parallel world. Or rather, the parallel world is the one that Elisabeth was promised, a child of affluent parents growing up on the 1980s and 1990s, pursuing her goals in academia, her husband leaving his job in the financial sector after the crash in 2008 to find more meaningful work in carpentry. They build a life in New York, underpinned by dreams and ideals, but it all falls to pieces. As the novel begins, they're declaring bankruptcy, a process that began with medical and dental bills. She teaches one class at the university, and works 9-5 at a high school, one of those private academies of nightmares. She and her husband sleep in a closet in their Brooklyn apartment, and still can barely afford the rent. She awakes every morning at 4:30 to get the run in that's so essential to her mental health, and in her downtime, she scrolls social media feeds for clues about the life of her former best friend, Sasha.
It's not a conventional narrative. It builds and builds, but it also doesn't, it just goes, the way a life does when you have to wake up at 4:30 every morning in a closet, when you work all day, and are up nursing most of the night. When you're just barely hanging on, the way that Elisabeth and her husband are, and she keeps thinking back on her history with Sasha, the various ways they both betrayed each other. A story line also builds about allegations against another professor at the university, about Elisabeth's somewhat agonizing relationship with her own mother, how the effects of a mental health breakdown years before linger still. Unremarked upon are her feelings towards her husband and children, and perhaps these are the only sure things she's got going here. Everything else is shifting, tricky, impossible to navigate.
There is a sinister banality to Elisabeth's experiences, one that touches on experiences of race, class and privilege, and there is also a murder, one most unconventional plot-wise, and how all the pieces of the story fit together in the end is the question. They kind of don't—but also this is the point. Why this puzzle? Why these pieces? And what is the way out of the state that we're in?
I loved this book.