August 24, 2020
20 K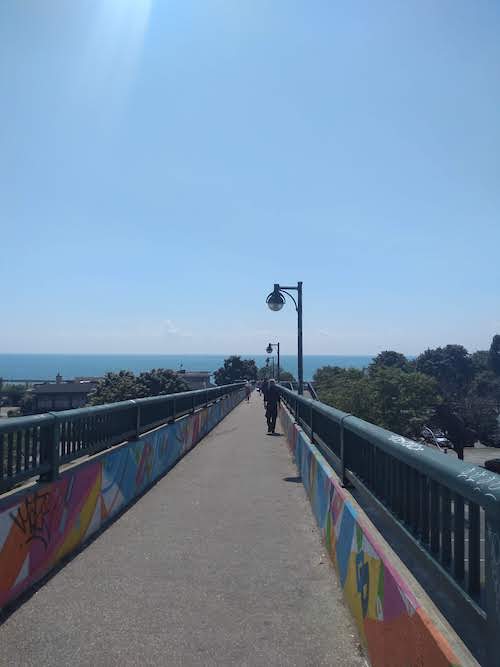 There are people who get off on pushing limits, on the intensity of winning, overcoming. I am not one of those people, which is part of the reason my children could not ride bicycles for years. The other part of the reason why my children could not ride bicycles for years was that they were really bad at it, and we were even worse at trying to teach them. We tried everything, but once one knew how to do it, the other one was struggling, and finally what it took in the end was a pandemic, for the world to be brought to a halt and my husband to be so frustrated by our situation that he taught our youngest to ride in an afternoon and had everyone's bikes tuned up and ready to go in a space of a week.
And so we ride bikes now, out for ice cream, to the Korean grocery store, to Dufferin Grove Park. So when my cousin called me out of the blue yesterday and suggested we meet at Humber Bay Shores, way out in the west end, I decided we would ride bikes to get there. According to Google Maps, it was fifteen minutes quicker than transit.
But, dear reader, Google Maps LIED. As we made our way down Shaw Street to King, it occurred to me that a return trip in the other direction was going to be hard work (the problem when your entire city is built on a subtle slope). And then when we got to King and realized that not only were there no bike lanes, but that idiots roared along in their stupid cars like the street was a racetrack, we joined our children on the sidewalk. And as Liberty Village turned into Parkdale, the sun grew hotter, and it was around Dufferin Avenue that somebody started to cry.
But by then it was too late to turn back, and there was still so far to go. Why is there no shade in Parkdale? Why had we decided to make this journey on the hottest day of the year? Would our children ever forgive us as they furiously pedalled on their tiny single speed bikes that they've both outgrown already? How were we ever going to get home again, I wondered, as we persisted, the lake getting closer. We pointed it out at our first glimpse of it, but the children were too tired to care.
There is a ramp on the other side of the Roncesvalles Pedestrian Bridge, and Iris sailed down it on her bike and ran right into a wall. I chased after her, flinging my own bike to the ground impeding traffic, and feeling like I was going to throw up once I had reached her, because I was already tired, and it was so very hot. (Cheers to the kind man at the Palais Royale who offered to refill our water bottles…)
On the other side of the bridge, we at least got to ride on the waterfront trail, and the Lakeshore was closed to traffic, so there was relief in that. But even from Sunnyside to Humber Bay Shores was so far, and as we approached the slope of the Humber Foot Bridge, we all felt ready to fall to pieces. Maybe we were just going to live at Humber Bay Shores forever, I decided, collapsed in a heap on the concrete.
Fortunately, we had come to Humber Bay Shores to see my cousin and her family, a cousin who has been one of my dearest friends forever, and once we'd recovered our breath and stopped sweating, we spent a delightful two hours with them, and no one ever would have suggested that the journey wasn't worth it.
But how to get home?
I decided we would cycle home along the Martin Goodman Trail on the lakefront, taking our time (it took 3 hours), stopping often to stick our feet in wading pools, to collapse under shady trees, and eventually even to order takeout from a sushi place which we ate in the Toronto Music Garden. I bought my children orange crush, a staple of my childhood but a curious artifact in theirs, and they were so excited. They definitely earned it. And then after sushi, we cycled just a little bit further, to the streetcar stop that would take us and our bikes right up Spadina Avenue, depositing us at the end of our street.
Which was kind of cheating, but even still, we cycled 20 kilometres, and it was terrible and awful and fun and amazing, and we were so proud of ourselves, and we never, ever want to do it again.