August 21, 2020
Hamnet and Judith, by Maggie O'Farrell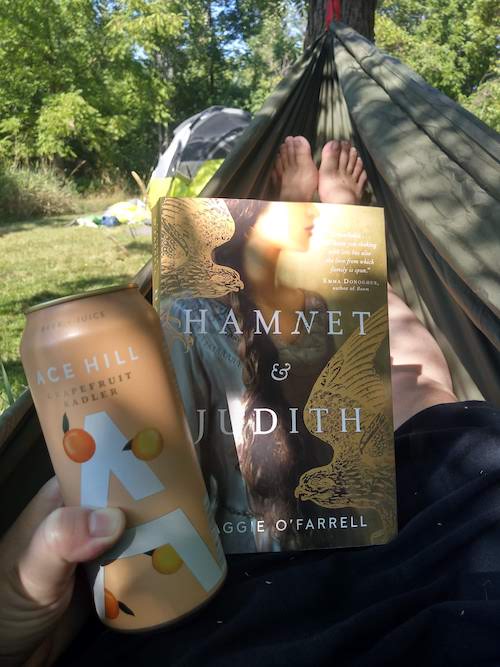 For YEARS, I have had Maggie O'Farrell confused with the author Catherine O'Flynn, and also I once read another Maggie O'Farrell book (Instructions for a Heatwave) but forgot about it completely, so I wasn't exactly primed to pick up her latest, Hamnet and Judith, especially since it's set in the sixteenth century and is about Shakespeare. No thank you.
And yet?
Then I kept reading reviews about it, and I can't recall exactly what swayed me, but it was something about the universality of the fiction, and the glowingness of all the raves. And so I bought the book when we were at Lighthouse Books last month, and I loved it so completely, reading it a few weeks later when we were camping at Bronte Creek.
Which was two weeks ago now, and this week has got away from me. It is 5:31 pm on a Friday as I write this and I have to go make diner, but first, I want to put down on the record that this is perhaps the finest book you'll read this year. Oh, the writing! The sentences! The scene in the apple store, those pieces of fruit bop-bop-bopping on the shelves to a rhythm. The whole world so magnificently conjured, and yes, it was the universality. It doesn't matter that this was Shakespeare's family (in fact the bard himself is not even named), or the century where the story is set—there was an immediacy to the narrative that I so rarely experience in historical fiction. Perhaps because the story is written in the present tense, but it works, the people, the scenes, so alive, so achingly, complicatedly real. And yes, the heartache, for this is the story of a child who dies, and the family who must suffer this incalculable loss, and this universal. The unfathomability. The fear as well, for this is a story of plague, and it seemed especially resonant as I read it in the summer of 2020. And the chapter about how the plague arrived in Warwickshire, fleas, and beads, and ship cats, the way that one thing leads to another, how everything is connected.
A truly magical, and stunning read.