July 10, 2020
The Hollow Land, by Jane Gardam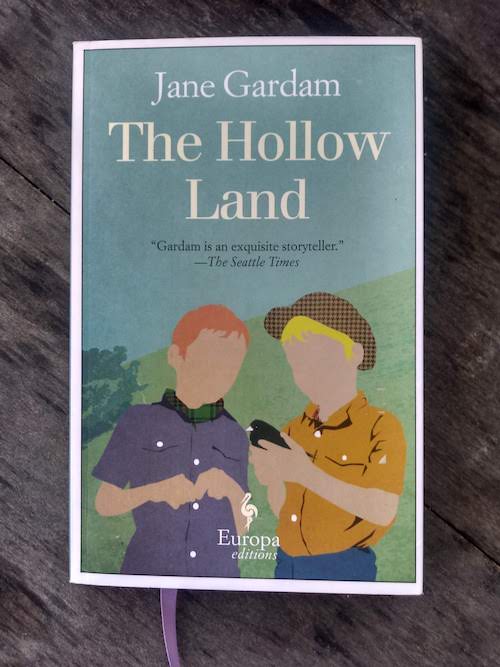 Last weekend, I had no idea what to read next, which never happens, because I always have this book or that to read for review, or whatnot. I have a pile of new releases that I am definitely excited about, but these were being saved for my holiday. So what? I picked a few books off my shelf and started them, but none of them took, and then I started reading The Hollow Land, by Jane Gardam, a book that's been sitting on my TBR stack for a while, which I wasn't even that excited about because sometimes Jane Gardam is hard work (kind of abstract; wholly worth the effort, but can be daunting; maybe it's just me?).
The Hollow Land was winner of the Whitbread Book Award when first published in 1982, though the fact that it was a collection of linked stories about two young boys didn't really grab me in theory. I started reading, however, and was hooked—finding the perfect read when you've been floundering is a little bit like that sweet relief of being well after an illness. "This book!" I kept exclaiming. So funny, so biting, so delightful. About a rural family in Cumbria whose grandfather's farmhouse is let to a family from London who come for vacations, leading to all kinds of cultural intersections and misunderstandings. (It is not entirely unlike Schitt's Creek, to be honest, especially in that polite fun is poked at everybody, and everybody gets to be human.)
Indeed, a collection of linked stories, but more effective than just a gimmick, and they come together to make the book more than the sum of its parts. We return to Bell and Harry as they grow older, as Harry and his family become familiar with the community, and we meet its eccentric characters. It's pitch perfect, clever and fun, deft and subtle characterization. Kind of like Stephen Leacock's Sunshine Sketches if they were 300% times better…
And then in the last story, the whole book shifts into a dystopia, taking place in a 1999 after the end of oil…but not so much as changed for Bell and Harry in Cumbria—they've gone back to plowing the fields with horses, that's all. An interesting thing too to consider the end of oil in a land whose hollowness comes from the fact it was long ago mined for coal. A dystopian future set in a rural idyll where nothing ever changes, where timelessness is its essence. It's such a strange and unexpected diversion, but makes perfect sense at the same time.
Just as reading the book did for me.